Living in the wild
— April 1, 2015
For the ultimate 'home safari' experience, consider residing intimately close to nature in these low-density and deluxe game-reserve estates in South Africa, Namibia and Kenya.
Safari holidays have been on the luxury travel hot list for some time, but now those with a sense of adventure and cash to burn are doing one better than that – they're buying property on or near game reserves.
"The tourism industry covers various regions in the country," says Assis Pontes, area principal for Pam Golding Properties in Ellisras (also known as Lephalale) in Limpopo province, South Africa. "It has cemented the need for a property offering that portrays the sought-after 'wildlife lifestyle' on a more permanent basis."
Luxury properties that can boast close encounters with the "big five" – elephants, lions, rhinos, buffalo and leopard – now account for a significant market share, says Pontes, noting that with wildlife property prices having consolidated since 2008, it is now a buyers' market. While demand is driven by the local South African market, there is increasing interest internationally, especially from Europe, the US and the Middle East.
WILD LIFESTYLE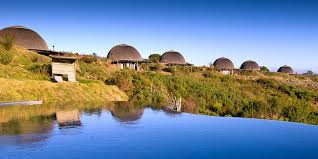 Safari properties come in all shapes and sizes to meet various budgets and requirements – but all offer the very appealing wildlife lifestyle. "Some may comprise an estate or mini-suburb in a game reserve, while others can offer large land sizes within a private game reserve," says Pontes. "Some reserves have purely wildlife conservation ideals, some are breeding wildlife reserves and others are hunting farms."
South Africa's Western Cape, with its great coastal location and proximity to the winelands, is one of the hottest spots for safari property. Just off the famed Garden Route – the must-see stretch of South African coastline that tops most tourist itineraries – is Gondwana Game Reserve, an enterprising 27,000-acre ombination of low-density real estate development and nature reserve.
Located 30 minutes inland from the coastal town of Mossel Bay, it is the brainchild of South African Mark Rutherford and his American wife, Wendy Trees. They began the project a decade ago, buying the first of eight farms that now make up Gondwana. "The residential component brings in a steady return on investment to pay for the land and bring in the animals," says Rutherford, whose childhood dream was to own a game reserve.
TURNKEY OPTION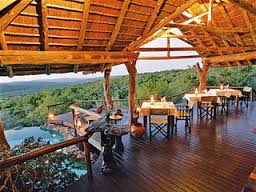 Only 14 of Gondwana's 96 plots of land remain for sale, and investors have the choice of either buying a one-hectare home site for 800,000 to 1.4 million South African rand (about HK$530,000 to HK$930,000) or its fully furnished "Private Residence" packages. These will set you back about 2.8 million rand for a three- bedroom home or 3 million to 4 million rand for a four-bedroom unit. The Rutherfords have drawn up architectural guidelines for the houses to ensure that they blend into the landscape. Many have traditional African thatched roofs, although slate and dark tile are also permitted.
The turnkey option has proven to be especially popular with international buyers who do not have the time to oversee the building and outfitting of their home. Buyers for each 2.47-acre site get the freehold title to a building lot of about 300 square metres. Owners are free to craft the landscape for the rest of the leasehold land, with a nursery on the reserve selling local trees. The monthly service fee of 2,500 rand covers practical matters such as security and rubbish collection, and gives access to the resident's clubhouse Lehele Lodge that has a bar, restaurant, library and swimming pool, as well as complete access to the reserve.
"As a homeowner, you can drive on the property by yourself, but you're given an induction course," says Rutherford. "This is a 'big five' environment so it's potentially dangerous, and we do have codes of conduct that protect people from doing anything silly."
With lions, elephants, leopards, buffalo and rhino on the reserve, it's no wonder that a lot of homeowners opt to use trained game drivers rather than drive themselves.
REAL-LIFE HOME SAFARI
Also available on the Western Cape is Uniondale, an exquisite five-star game lodge set in 1,800 hectares of private game reserve. The sprawling brick home with traditional thatched roof blends into the rugged backdrop of the Cape. This is a place to come and connect with nature and recharge your batteries. And it's meant to be shared with 18 ensuite luxury guest rooms, making it well suited for entertaining.
There is a sheltered outdoor swimming pool to cool off in the summer and the living room boasts high ceilings and windows that look out across breathtaking scenery. Giraffes amble past the front terrace and bushbuck and Springbok graze on the course bushes – just two out of 22 species of game on the reserve – making for a real-life home safari experience. Pam Golding Properties has the lodge on the market for 33 million rand.
Despite the obvious appeal of the Western Cape, Pontes says that wildlife properties are mostly located in the northern parts of South Africa. He has one on his books that cannot lay claim to easy access to the sea, but has much more to make up for it.
This six-bedroom luxury wildlife retreat is north of Johannesburg within the Welgevonden Private Game Reserve. Its clean lines and contemporary design are softened by earthy tones and a stone exterior.
Set on a hilltop, the lodge – on the market for 28 million rand – faces south, overlooking a river, and blends in with the terrain. Built on several levels, two bedrooms face west and four face east – all ensuite – and there is generous staff accommodation, too. Floor-to- ceiling windows in the living room offer panoramic views across the valley, while the outdoor swimming pool beside a generous stone-tiled terrace is cut out for entertaining.
"Strong property law, a diverse economy, and long history of property ownership in South Africa has led to wildlife property, or property close to game reserves, comprising a significant property market in Africa," says Pontes. He adds that all three South African properties are also in malaria-free areas, so you don't need to watch out for the mosquitoes – although you'd be well advised to keep an eye out for the lions.
OUT OF SOUTH AFRICA
Luxury safari properties aren't the reserve of South Africa. Namibia boasts some spectacular game farms. Buffalo aren't allowed on private property in this country, but the other four of the 'big five' can be found. On game farms here, the focus is on the breeding of wildlife, including rare species such as sable antelope, roan antelope and white rhino. As the income-generation potential of these ventures by far outstrips that of conventional properties, demand for these holdings is outstripping supply.
"Due to the high demand experienced for these properties, we often find that stock moves quickly," says Leon Jooste, a joint shareholder of Pam Golding Properties Namibia, noting that none were available at the time of the interview. "But opportunities do present themselves often."
Kenya is another market, and Oloidien Bay House, just two hours' drive from Nairobi via the spectacular Great Rift Valley route, is a standout example of how luxury living and the wildlife experience can merge in style. Situated on the shore of Lake Naivaha, this home overlooks the wildlife paradise that is Kenya's Great Rift Valley. Hippo, giraffe, gazelles, warthog and zebra wander past the house on their way to the lake.
The five-bedroom, all-ensuite home has four-poster beds and stripped wooden floors. The living room has an open log fireplace, with a separate dining
room, games room and expansive veranda. And for additional guests, there is a three-bedroom cottage nearby. Knight Frank Kenya has this property on its books with an asking price of £1.95 million (HK$22.6 million). Pontes advises anyone thinking about such an investment to be clear on their motives for buying a wildlife property. "Is it for the enjoyment of nature, hunting, breeding or a combination of the above?" he asks. "Is having the 'big five' important? The topography, type of vegetation, location, rainfall and water are also factors to consider." Nevertheless, for those with a hankering for warm earth and open horizons, this could well be a dream come true.
[PDF url=http://www.hongkongkate.com/wp-content/uploads/2015/05/Living-in-the-wild.pdf]