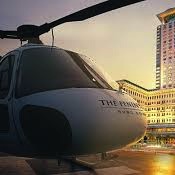 Taking it global
— June 1, 2015
Hong Kong has long been a magnet for many seeking to make their fortunes. But does the city's talent have what it takes to make its local businesses go global?
Hong Kong, which has built a reputation as 'Asia's world city', has developed enormously over the past few decades. From an economy mainly based on light industry in the 1950s and '60s, it has grown to become the world- class international financial centre it is today.
As the city has evolved, its citizens have become better educated. And its homegrown companies have sought to expand their businesses further afield.
The Hongkong and Shanghai Hotels (HSH) is one such company. Since opening its flagship The Peninsula Hong Kong hotel in 1928, nine other Peninsula hotels have opened – in Shanghai, Beijing, Tokyo, Bangkok, Manila, New York, Chicago, Beverly Hills and Paris. The Peninsula London and The Peninsula Yangon are in the works.
Majority-owned by the Kadoorie family, HSH, chaired by Michael Kadoorie, currently owns, develops and manages hotels and commercial and residential properties in Asia, the US and Europe.
Sindy Tsui, HSH's director of human resources, says the hotel's reputation has meant it has had little problem attracting talent. But, as for many other organisations, the challenge is retaining the best people. For this, good leadership is essential.
"Employees leave their managers, not necessarily the organisation, and so it is paramount that management effectiveness and leadership are core competencies," Tsui says.
To help ensure its top staff understand the company's culture and core brand values, HSH runs international leadership programmes and provides opportunities for cross-training and overseas exchanges.
According to Tsui, dedication to respect, care and efficiency are crucial in the hospitality industry, wherever one is in the world. "We are all human beings – whether we speak the same language is irrelevant, as long as we have respect for one another," she says. "Once we have respect, language and cultural barriers can be overcome."
When The Peninsula Paris opened last August after an extensive four-year restoration (the hotel was formerly the Hotel Majestic), a multi-department team of more than 50 Peninsula staff from around the world helped out. The hotel is The Peninsula's tenth but its first in Europe.
"HSH is genuinely committed to the long term and focuses on developing, as an owner-operator, a small number of the highest quality Peninsula hotels in the most prime locations in key international gateway cities," said Clement Kwok, CEO of HSH, on the day of the hotel opening.
LOCAL SPRINGBOARD
Roy Chung Chi-ping – entrepreneur, industrialist and co-founder and non-executive director of Techtronic Industries (TTI) – is an example of an individual homegrown success story. Chung, 62, is known as the 'King of Power Tools', and has held a number of leadership positions, including serving as chairman of the Federation of Hong Kong Industries.
The broad story of Chung 's humble beginnings before he became a self-made man is perhaps not an uncommon one in Hong Kong. But the fact that the business he co-founded has become a global leader in its field is notable. Chung began working in a warehouse in 1968, earning less than HK$300 per month, and worked for a range of companies for nearly two decades before establishing TTI with a German business contact, Horst Julius Pudwill, in 1985.
After beginning with just several employees in Kwai Chung, TTI opened manufacturing facilities in Dongguan, China, in 1988, and listed on the Hong Kong stock exchange a couple of years later. Since then, the company has expanded significantly. Major overseas brands TTI has acquired include Ryobi's North American power tool business in 2000, Milwaukee power tools in 2005 and the Hoover floor care brand in 2007.
Today, the company runs leading power equipment and floor care businesses, and has divisions in Asia, Australia, the Americas, Europe and the Middle East. TTI now has more than 20,000 staff. Last year, it recorded a US$4.8 billion turnover.
But Chung thinks there's a general lack of ambition on the part of local companies to go global, and believes today's millennials need to push themselves harder. "Young people are better educated compared to the [previous] generation. They are smarter than us, but their weakness is they do not have much pressure," says Chung.
He wants to see more Hongkongers look for international opportunities, citing fashion designer Vivienne Tam, a graduate of the Hong Kong Polytechnic University who went on to make her name as a fashion designer in New York, as an example. "In Hong Kong, I really believe we've built up some good talent," he says.
Chung also urges Hong Kong businesses to continue to make use of the city's position as an international financial centre.
"We must use [Hong Kong's financial market] to grow," he says. "Hong Kong businesses have to be using this platform to expand globally."
THE CHINA ADVANTAGE
With English introduced into Hong Kong while the city was under British rule, and Mandarin speaking in the SAR having significantly increased since the 1997 handover, locals have had the opportunity to become fluent in multiple languages. Such skills put candidates in good stead for international roles.
"Hong Kong talent has the advantage of language skills, particularly writing in English, the business language," says Bianca Wong, group human resources and corporate communications director at Jebsen & Co, a Hong Kong-based marketing and distribution company with extensive operations across Greater China.
Wong notes that today's young Hongkongers have good exposure to the mainland. "There are a lot of exchange programmes for students to intern in China and go to summer school in China; it's moulding their interest in China," she says. "They are very comfortable conducting meetings in Mandarin and they are very willing to take e-learning courses and short courses."
Wong also believes talented young Hongkongers are hungry for success and can be clear about their goals, but that this can be a double-edged sword. They can get frustrated if they expect to advance quickly in their careers and don't get promoted as fast as they would like, Wong says.
For some entrepreneurs, the mainland can offer broader opportunities. "For Hong Kong Chinese, there is a sense that there are more diverse opportunities in mainland China," says Sean Ferguson, the associate dean of master'sprogrammesanddirector of MBA programmes at the Hong Kong University of Science and Technology (HKUST) School of Business and Management.
"If they stay in Hong Kong, there is the sense they are locked into financial services. But on the mainland, they can move into consulting, consumer marketing, pharmaceuticals – pretty much anything," Ferguson says.
He adds that he's seen people set up successful businesses in Hong Kong on the back of experience they have gained working on the mainland. He thinks it's possible for very proactive entrepreneurs to establish a portfolio of relationships that can be used to set up a solid business operation within three to five years. English skills, however, remain important for high-level talent at top international companies.
Some worry Hongkongers will become less internationally competitive if English competency slips.
Hong Kong-based Robert Knight, a partner for the global CEO and board of directors practice at executive search firm Heidrick & Struggles, says he's noticed the quality of spoken English in Hong Kong decline since the 1997 handover.
"In searches we've done over the last 18 months, it has been noticeable when you have Hong Kong people – and then suddenly you get a Singaporean or Malaysian in the pot," Knight says. "It's not that they are smarter, but they are better at articulating themselves [in English]."
THE DIVERSITY CHALLENGE
More diverse job opportunities in the city could also help nurture world-class talent, says Knight. While start-ups have been springing up in the city, there seems to be a relative lack of medium-sized and broadly held companies here.
"I am always impressed and enthused by the youth I see, but I feel there is a slight lack in their ability to really achieve, because they've got to choose between these big Hong Kong conglomerates or start-ups," says Knight.
"The big conglomerates revolve around property and are strong family-owned businesses," he adds. "Nearly all the very large companies still have boards run by first-generation Chinese."
According to Knight, boards are "selecting the world's top talent-formerCEOswhohavean understanding of different markets and cultures."
Jebsen & Co is an example of a family-owned enterprise that has taken a cross-cultural approach in growing its business. Originally founded in 1895 as a trading business in Hong Kong by Jacob Jebsen and Heinrich Jessen, who hailed from what is now part of Denmark, the group now has operations in more than 10 cities on the mainland and has established a presence in Southeast Asia and Europe. With consumer, industrial, beverage and motors units, its products include the Blue Girl Beer brand, which it acquired in 1906, and it has represented Porsche in Hong Kong since 1955.
"Much of the success of the company is based on the teamwork betweenChineseandEuropean colleagues," says Hans Michael Jebsen, in his chairman's message on Jebsen & Co's website.
THE NEXT LEVEL
Educators believe there's still a lot of great talent to be tapped in Hong Kong, and that the city can take on a bigger role on the world stage. "There is a lot of leadership potential here," says HKUST's Ferguson. "Hong Kong has a deep talent for CEOs that can be nurtured."
Richard Jolly, adjunct professor of organisational behaviour at London Business School, who has taught executive education programmes across Europe, the Middle East and Asia, says: "Given the cultural diversity of Hong Kong businesses and the flow of executives in and out of the region, [the city] is potentiallyextremelywell-placedto increase its importance in the global business landscape."
However, a shift in leadership style may be needed to help Hong Kong companies take their talent to the next level. "One of the key trends in organisations is the move to a more interdependent, collaborative way of working – that is, the transition from human capital (knowledge and expertise) to social capital," Jolly says.
"For this to happen, there needs to be a focus on developing the skills necessary to engender effective collaboration. This is a big shift for many businesses, as it involve[s] shifting from traditional 'command and control' styles of leadership."
[PDF url=http://www.hongkongkate.com/wp-content/uploads/2015/07/335-The-Peak-Talent.pdf]