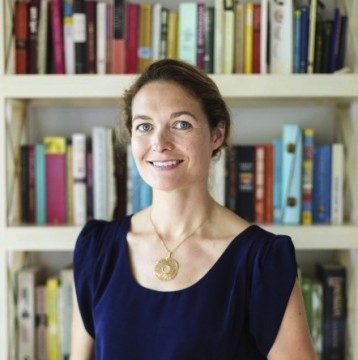 The face of Heywood Hill bookstore in Asia
— July 19, 2015
Charlotte Merritt, bookseller-at-large for store where Nancy Mitford wrote two novels, sees a bright future for it in Hong Kong, with its 'very well-educated and culturally engaged audience

The world's smallest global bookshop has come to Hong Kong. If you're wondering why you haven't stumbled across it, that's because Heywood Hill in Hong Kong is not a bricks-and-mortar shop. What it does have is bibliophile Charlotte Merritt, who is the company's first bookseller-at-large and the face of the brand in Asia.
Merritt is a natural fit for the role. She has a master's degree in literature from Edinburgh University and spent three years as marketing manager at Bloomsbury Publishing during the peak years of Harry Potter hysteria. From there, she moved to Hodder & Stoughton as head of marketing where she promoted authors such as Booker Prize-nominated David Mitchell and commercial heavy hitter John le Carré.
It's her ability to appreciate a range of authors that will serve her well in her new role. Her journalist husband's job took her to Mumbai for a few years and the family – two young children in tow – arrived in Hong Kong 18 months ago.
The actual Heywood Hill bookshop is in London and occupies two floors of a Georgian townhouse on Curzon Street in Mayfair. Novelist Nancy Mitford famously worked at the bookstore, founded in 1936 by Heywood Hill, during the 1940s and wrote a couple of books there – The Pursuit of Love (1945) and Love in a Cold Climate (1949) are both thought to be influenced by her years at the store.
Mitford's presence ensured that it became a hub for literary London and caught the attention of the Andrew Cavendish, the 11th Duke of Devonshire – Nancy's elder sister Deborah was married to the duke. Cavendish took a stake in the bookshop and in 1991 became the majority shareholder.
The celebrity connections don't stop there. Queen Elizabeth is a customer ("Heywood Hill goes to the queen, she doesn't go to Heywood Hill," says Merritt) and in 2011 it received the Royal Warrant. And our very own David Tang has been a regular for years. "It's exactly how you want an English bookshop to be – all squeaky floorboards and curated shelves. And the people who work there are infinitely well read," says Merritt.
The bookshop has wisely made a feature of the staff's depth of knowledge about the literary market and the wide range of services they offer allows this relatively small shop to have such a big global footprint. International customers who have visited the London store and fallen in love with the place keep ordering books when they return home and now Heywood Hill has customers in more than 60 countries. And as overseas sales have taken off, the website heywoodhill.com has become an even more critical part of the business.
"I'm their first bookseller who isn't based in Curzon Street. I think Hong Kong seemed right as the next step. It's a thriving business centre with a very well-educated and culturally engaged audience, and yet there are so few bricks-and-mortar bookshops – and they are increasingly diminishing," says Merritt.
Some may see it as a bold move to employ someone in Hong Kong at a time when bookstores are closing and e-books are posing a challenge, but Merritt is confident there are enough people who enjoy reading the old-fashioned, page-turning way. "We are all so bombarded with digital information that it's quite nice to take refuge in the printed word. And in the past year, it seems the e-book trajectory hasn't continued, it's flattened out," says Merritt, adding that Heywood Hill has bucked the trend – its sales are up 25 per cent in the first half of this year.
The store is known for specialising in a mix of books from new releases to old titles and antiquarian books. Its global success is in large part thanks to the top-notch service it provides, matching customers with books. This tailored literary service isn't something that has been recently added to the business to counter competition from e-books, but a long-standing part of the business.
Take the "Year in Books" service, that for £200 (HK$2,422) will see one of the shop's bibliophiles carefully select a paperback each month based on your reading tastes and send it to you beautifully gift-wrapped. A woman in Connecticut, who has only spent half an hour in the London shop, has been receiving a book a month for more than 40 years. Shop staff in London "sit down once a month with their list of hundreds of clients around the world and think about their reading preferences, what they read last month and what they might want to read this month. It's a lovely present because it always looks thoughtful," says Merritt.
Anyone who signs up for the service can request a literary consultation to brief the store on books they have enjoyed or disliked and they can make requests for particular books or genres. "We are now in a world where all book recommendations are generated by digital algorithms from Amazon – this is the opposite of that," she says.
The tailored services extend to book searches, gift-buying services and even the development of private libraries for homes or hotels. Most recently the bookstore created a library of 2,500 books focused on second world war memoirs with a focus on aviation for a customer in Geneva.
At a time when bookshops around the world are struggling to survive, it's refreshing to see an independent bookstore not only survive but thrive. Heywood Hill has a long history and the backing of some big names, but its real success is due to the dedicated staff who truly love books and want to share that passion with readers to help them get the book they won't be able to put down.
Merritt is the latest addition to that team and hoping to encourage Hongkongers – expatriates and locals – to reach for a book rather than their iPad.
Original Link: SCMP