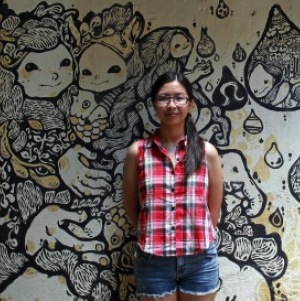 Queen of Hong Kong's street art scene
— August 9, 2015
Self-taught artist had only been working for a year when she won Hong Kong Secret Walls contest. She's already making a living from her art thanks to commissions from shops and restaurants

Street artist Bao Ho is the reigning champion of Hong Kong wall art. Ho, who won the Hong Kong leg of the Secret Walls art battle that concluded in July, is making a living from her art – not bad for someone who has only been in the business a year.
She is nothing like the old-school image of a graffiti artist – a tattooed rebel wielding a spray can and operating under the cover of night. Polite, soft-spoken, not a tattoo in sight, the 27-year-old Hongkonger is modest about her win and says she's got so much to learn. But beneath the sweet smile – perhaps more a cheeky grin, like the ones she gives her "Bao" characters – she has a feisty streak. She didn't prepare for the July 3 final of Secret Walls – in which artists battle to create the best work in front of a live audience – preferring to freestyle.
"I was really angry that day – I was annoyed by something one of my clients said which was rude – so I drew on that emotion," says Ho.
She didn't know until she got on stage to face her competition, fellow artist Jay Pelmet, in a 90-minute paint-off at the Backstage Live venue that she would paint an angry figure – multiple bulging eyes and clenched fists. At the heart of Ho's success is a confidence to recognise how she is feeling and channel those emotions. Fortunately, most of the time Ho is a happy soul and her delightful, whimsical murals occupy some key wall space in Central and Sheung Wan.
Ho has a distinctive style, her black and white murals a striking graphic mix of human bodies, animals, flowers and patterns with the addition of perhaps one colour. A self-taught artist, Ho has always enjoyed doodling, but it wasn't until she went overseas in 2013 that she got the courage to do something about it.
"I wanted to go to Australia to busk and sell my art – I wanted to see if I could support myself through my art," says Ho.
After a year in Australia, she was invited to Taiwan to join a live painting event and from there to France and then to Italy, where a street-artist friend signed her up for her first art jamming event. "There were so many cool artists there and I was so nervous. It was the first time I painted on a wall in front so many people," she says.
Less than a year on and she is now a pro when it comes to getting on stage and facing a blank canvas in front of a roomful of strangers. There was a big crowd for the third and final round of the Hong Kong Street Walls competition last month and Ho was unfazed.
"I really had fun. It's easier for me to get up there without preparing before because if I think too much I will have too many ideas and in the end can't use them all," says Ho.
A lot has happened in a short space of time. When she came back to Hong Kong late last year she yearned to making a living from her art, but wasn't sure how that might be possible. Life is tough for artists around the world and even more so in Hong Kong. Determined to make a go of it, she sought out like-minded people and in March signed up for HKWalls, an annual street graffiti festival.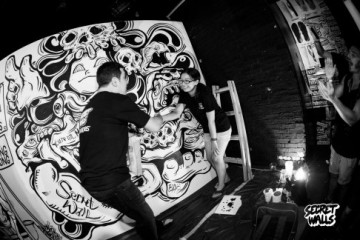 A nonprofit venture, HKWalls brings local and international talent to the city to transform large exterior walls into original works of art. All the wall space is donated and the artists do their work for free, too. Ho was given a wall on Pound Lane and covered it with a playful black and white mural with pale blue highlights.
The striking artwork led to paid commissions – the first for a restaurant in Aberdeen and then another on Wellington Street, Central, beside the Mana! for the hip yoga-inspired sportswear company, Lululemon.
Bobsy from Mana! loved the work so much that he has commissioned another piece for outside his new cafe in Pound Lane, Tai Ping Shan, that opened at the end of last month. Ho charges HK$10,000 to HK$15,000 for a mural depending on the size. And while she is open to direction, most of her clients come to her because they like her style.
"A blank wall in a shop is so boring. A cool artwork is a talking point. It changes the feel of the space and makes it more relaxed and friendly," says Ho.
Her mother wasn't entirely enthusiastic about Ho's plan to try and make a living as a street artist, but Ho is slowly winning her over. Every competition win, commission or news story helps persuade her that perhaps a full-time job isn't everything and it is possible to make a living doing something that you love.
"We were made to draw and dance and be creative, but when we become adults we seem to forget about these things. I want to paint – it makes me happy," says Ho.
The local street art community is small, says Ho – no more than 100 people – but this is a plus as it means it's easy to get to know everyone and artists support each other. On the downside, Hong Kong is effective at policing graffiti and the lifespan of street art is short compared to other cities.
While in the West it can easily take six months before authorities paint over pieces of graffiti, in Hong Kong they are usually erased in a matter of days. Ho has done some illicit works around town, but is careful to pick spots that are remote and always checks to make sure there are no surveillance cameras around. Fortunately, as more Hong Kong businesses commission art, Ho can be assured that her work will be around for some time.
"I see things changing in Hong Kong. It would have been hard to do what I do before, but now shops and restaurants are more open to how art can transform their spaces," says Ho.
Original Link: SCMP