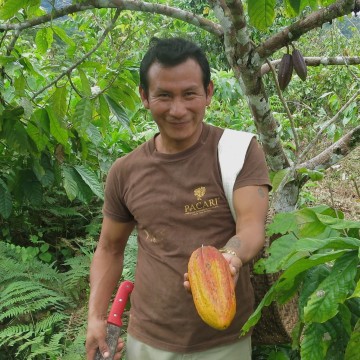 Dark gold of the Amazon
— August 19, 2015
Recently confirmed as the global birthplace of chocolate, Ecuador is also seeking to regain its laurels as the world's finest producer.

Bolivar Alvarado wields a machete with the confidence of someone who has grown up handling the long knives. He tramps through the undergrowth on his small farm in the Amazon rainforest north of the capital Quito, pauses beside a cocoa tree and with the flick of his wrist cuts down a red and orange pod the size of a rugby ball.
"We farmers didn't use to focus on cocoa, but now we all know there is money to be made from cocoa – it's better than bananas," says Alvarado, whose family has been working this small farm in Santa Rita, Napa Province, for three generations.
There are an estimated 200 000 farmers in Ecuador and 90% of them are small producers like Alvarado with farms that average three to five hectares. More farmers are joining the cocoa business, switching from bananas to the more lucrative beans as demand worldwide soars for the "Food of the Gods".
Cocoa beans have been grown in Ecuador since pre- Columbian times, but recent years have seen a massive boom for the industry. In 2002 Ecuador was producing 100 000 metric tons of cocoa and by last year that figure had reached 235 000 tons, representing an increase of more than 130% in 14 years with a sustained growth of 10% a year.
With this increased production Ecuador has surpassed Brazil as South America's top cocoa producer and is poised to become the world's fourth-largest producer
by the end of this year, says Ivan Ontaneda, president of Ecuador's National Cocoa Exporters Association, known as Anecacao.
THE BUSINESS OF CHOCOLATE
For those who associate Ecuador with crude oil and bananas, this may come as a surprise, but it makes smart business sense. By taking advantage of the increasing demand for chocolate worldwide to diversify exports, this OPEC nation is trying to rectify its trade deficit which last year was its worst in three years.
Working in partnership with Anecacao, the Ecuadorian government has developed a programme to boost planting and offer education programmes to farmers.
"The programme encourages and supports small producers through cocoa farms' rehabilitation, pruning, fertilisation and post-harvesting activities. As a result this has increased cocoa production to surprising levels," says Ontaneda.
He expects the output to continue climbing as trees planted in 2009 and 2010 begin to bear fruit and farmers helped by the government programme improve harvests. A plan to provide financial incentives for a further 2 000 farmers to switch from bananas to cocoa beans is already in the works.
Cocoa prices over the last five years have remained in the range of US$2 300 to US$3 200 per metric ton.
"We estimate that prices will reach higher levels in comparison to previous years due to an increase in consumption within different markets across the globe, especially China," says Ontaneda.
QUALITY
The high prices have encouraged production of high- quality cocoa beans and it's for this that Ecuador has earned its reputation. It doesn't just produce cocoa, it produces some of the absolutely finest cocoa in the world using "fine" or "flavour" beans, the top-quality varieties used in gourmet products because of their superior taste. Much like wine production, cocoa reflects the flavour of the region where the beans are gown – Ecuador's mineral- rich volcanic soil and tropical equatorial climate provide ideal conditions – as well as how the beans are dried and fermented. Over the last 10 years as demand for more flavourful beans has risen, Ecuador has emerged as one of the leading exporters of fine beans.
To get Ecuador's name out there as one of the world's leading producers of fine chocolate, exporters are working to improve the traceability of beans.
"We are seeing more consumers who want to know where their chocolate comes from and also the labour and environmental conditions of that country of origin," says Ontaneda.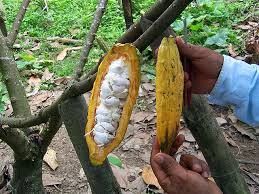 FAIR TRADE
One chocolatier who has put environmental concerns and social responsibility on a par with product quality and profitability is Santiago Peralta. Together with his wife Carla Barboto, he founded Pacari Chocolate, a premium organic chocolate brand, 12 years ago. They work directly with about 3 000 small farmers. By cutting out the middleman and partnering directly with the cocoa growers, they are able to safeguard the biodiversity of cocoa and educate farmers to have a holistic approach to the land that considers the soil, plants, insects and birds. They have also established schools and offered training in organic farming methods.
"Fair Trade incentives to peasants to use low intensity, environmentally-friendly methods where cocoa grows naturally in tropical gardens with other products such as papaya, banana, guava and lemon promotes sustainable production and protects the natural ecosystem," says Peralta.
Bolivar Alvarado produces his cocoa for the Pacari Chocolate brand – and not just for the organic farming methods. He gets a better price for his crop. For 100 pounds of common cocoa beans, he says he could typically expect to earn US$28, but for fine cocoa beans he could get US$80 for the same amount. Pacari – as a Fair Trade producer – pays him US$150.
Peralta is justly proud of the brand's good relationship with its farmers, calling it the foundation of their success.
"For too long growers have been the forgotten piece in the chocolate chain. We believe it is about time they get their dues and we hope other chocolate makers will follow our example and invest in their cocoa producers, pay them a better price for their product and work collaboratively," says Peralta.
GROWTH
Consumers appear to like what they're producing. The last few years have seen consistent growth upwards of 20% and Peralta expects that trend to continue this year. The brand's main markets are Europe, North America and the leading economies in Asia Pacific – South Korea, Japan and Australia. And there's a new surprise market.
"We are also seeing encouraging growth from non-traditional markets, most notably here in Latin America where consumers are becoming ever more knowledgeable about the source of goods they consume, demanding higher quality, organics and products that employ sustainable and just growing practices," says Peralta.
He expects to see the price of the country's beans increase in the coming years by possibly as much as three times as the global demand for gourmet chocolate soars.
"In terms of chocolate the world now respects Ecuador a lot. Sadly, fine cocoa production is limited, so prices for Ecuador's cocoa are going to rise," he says.
The wider market trend also sees Europe as the leading consumer, accounting for 60% of exports. Ontaneda says Asia – particularly Japan – is a big growth market and much is also expected of the Chinese.
"China is an important market niche for high-quality cocoa, even though it's still in growth. We are constantly developing strategies to make Chinese c
CHOCOLATE TOURISTS
Ecuador's reputation for fine chocolate combined with a keen consumer interest in finding the source of their favourite products has led to a new trend in tourism in the country – chocolate tours.
Ecuador's most-established tour operator, Metropolitan Touring, has teamed up with Pacari Chocolate to offer an overnight romp into the rainforest to find the source of chocolate in the Amazon. The two-day trip, which includes the chance to eat raw cocoa direct from the pod and to make your own artisanal chocolate, was launched at the beginning of the year and has proved popular.
"A lot of people now care about what they buy and what they eat. They want to find out where it comes from, who made it. And this is especially true of many people's favourite treat – chocolate," says Gabriela Parades, who leads the chocolate tours onsumers aware of the fine characteristics of Ecuadorian cocoa," says Ontaneda.
THE BIRTHPLACE OF XOCOLATL
The Amazon basin has long been considered the home of the cocoa bean, but it wasn't until last year that an international team of researchers found conclusive evidence that pinpointed Ecuador as the source of the original cocoa bean.
Deep in Ecuador's southern Amazonian region of Zamora Chinchipe, archaeologist Francisco Valdez found ceramic pottery dating back to 3 300 BC that contained microscopic remnants of cocoa. The discovery suggests that cocoa beans were being harvested and eaten more than 5 000 years ago.
"It was a tribe in the rainforest called the Mayo Chinchipe that domesticated the cocoa bean. But they didn't eat it as we do now, it would have been used by shamans in sacred rituals," says Parades of Pacari Chocolate.
Europeans became dedicated fans of the cocoa bean in the 16th century. It was Montezuma II, the last ruler of the Aztec Empire, who introduced the Spanish conquistador Hernán Cortés to a spicy chocolate drink known as xocolati. Cortés took the beans of the cocoa tree back to Spain where his cooks changed it from a cold drink to a hot one and added sugar and vanilla.
While the Spanish exploited other South American countries for their gold and silver, their primary interest in Ecuador was cocoa. Ecuador was the world's largest exporter of cocoa until the beginning of the 20th century when plant disease and the introduction of new cultivations across Africa and Asia saw Ecuador lose its top spot. In the early 1900s many Ecuadorian farmers began switching from growing cocoa to bananas and coffee, which were more lucrative crops. But now the pendulum is swinging back to cocoa.