Enchanted Isles
— September 1, 2015
When you come from a land where we politely refer to smog as fog and have to have our stomachs pumped if we fall in the harbour, the Galapagos Islands are quite simply a paradise

The Galapagos Islands, lying 1,000 kilometres off the coast of Ecuador, are probably the most famous wildlife-watching destination on the planet. It was this remote, volcanic archipelago that inspired Charles Darwin's ground-breaking theory of natural selection and, 180 years since he arrived, it's still possible to see much of the enchanting wildlife that captivated him.
The isolated terrain, now fiercely protected, shelters an incredible diversity of plant and animal species, many found nowhere else on Earth.
Conservation controls
The Ecuadorian government recognises that the Galapagos is an absolute gem and so conservation is paramount and wildlife tourism is strictly controlled. An impressive 97% of the land area is designated as national park and visits can be made only to specific visitor sites with certified naturalist guides. The Galapagos National Park coordinates visits to these sites and carefully monitors ecological conditions.
Each designated site has a marked trail that visitors must respect. Most trails are less than half-a-kilometre long, often passing over rough lava or uneven boulders. Some sites have wet landings (you wade to shore from skiffs) and others have dry landings (passengers step foot directly on dry land). The Galapagos National Park limits the number of visitors to each island and keeps a close eye on each tour ship's itinerary.
Conservation laws are tough but that's not to say the Enchanted Isles (as Darwin called them) don't have their issues. There are still occasional problems with illegal fishing and disputes over who should take responsibility for policing the waters. Invasive species – such as the feral goats that have stripped some islands of vegetation – have also wreaked havoc, although efforts are underway to control this. And tourists themselves – about 170,000 a year – inevitably have an impact.
Such is the concern for the wildlife that an excursion to one of the stark islands – all lava rock, cactus and lush green highlands in the distance – is not unlike a trip to North Korea, well organised and strictly controlled. But if that's what it takes to keep the Galapagos in its pristine state, then it's worth it.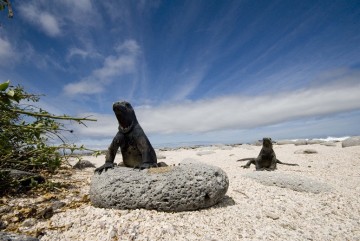 Getting around
The Galapagos is made up of 13 volcanic islands, six smaller ones and more than 100 islets, and each has its own unique landscape and wildlife. One island is best known for its birdlife, another for prehistoric-looking marine iguanas and yet another for giant tortoises. However, many species, such as sea lions, lava lizards and a variety of coastal birds such as herons, tattlers, turnstones and whimbrels, are common at most visitor sites.
The best way to see as much as possible is to book a cabin on a live-aboard boat. One such operator, Metropolitan Touring, pioneered travel to the Galapagos in the 1960s and now has three tour ships – the Santa Cruz, La Pinta and Isabela II. The ships vary in size, each has accommodation to fit most budgets and they all have packed itineraries, with activities ranging from snorkelling to hiking. In the evening, the ships up anchor and sail to another location, so that each day brings a new island to explore.
The naturalists on board the tour ships ask visitors to keep a 2-metre distance from the wildlife, but since the animals don't know the rule this can sometimes mean shifting out of the way. Two sea lions cavorting in the shallows seem completely unconcerned by the people nearby and lumber out of the sea, moaning as they flop on the sand, totally relaxed. Lying on the beach, you might hear the swish of a marine iguana as it drags its tail over the soft sand. And wading into the sea, you might experience the thrill of seeing a penguin dive off a rock and dart past you, then circle back for another look.
In fact, one of the most surprising things about the Galapagos is just how fearless the wildlife is. The birds and animals give nothing more than a cursory glance to tourists. And the absence of natural predators on many of the islands means that those that have made it all the way to this remote spot can live and breed without restriction. It makes for some very laidback animals.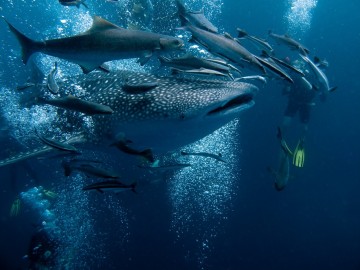 Hunkering down
If you want a day or two to get back your land legs, or simply can't face leaving the Galapagos, you can opt to stay ashore on the islands of Santa Cruz, San Cristobal, Floreana or Isabela and take day trips to nearby islands.
On the south-side of Santa Cruz, 27-room Finch Bay Eco Hotel is an idyllic retreat. The simple rooms all have airconditioning and a hammock on the terrace overlooking the mangroves. The staff is excellent and the hotel's charismatic manager, Xavier Burbano de Lara, is quick to suggest activities, though he's also sensitive to the fact that some people may want to recuperate from a long journey or just chill.
Wherever you choose to stay in the Galapagos, you're bang in the heart of paradise, and you'll want to explore it. A short kayak away you might find a sheltered cove where oversized plovers nest in the cliffs and you can catch a glimpse of a turtle as it surfaces briefly for air. Be sure to make it to picturesque Genovesa Island, known as Bird Island because of the many and varied bird species that nest there. Here you'll spot blue-footed boobies tapping out their bizarre mating rituals, great frigatebirds flaunting their red bellies and gigantic gulls snuggling up in the crook of a lava rock.
Diving and snorkelling offer even greater rewards, bringing you nose to nose with fabulous tropical fish and rays. Even the sharks are friendly in these Pacific waters – they don't eat people thanks to the abundance of tasty fish. Still, you have to steel yourself the first time you swim past a herd of white-tipped reef shark.
Make the most of your stay. This is your chance to explore on your own terms and see the Galapagos as Darwin did 180 years ago.
Planning a trip:
The Galapagos is a terrific place to visit any time of year. Temperatures range from 21°-30°C. The warm season is from January to June, dry season is from July to December
During peak season (mid-June through early September and mid-December through mid-January) it is particularly important to make travel arrangements well in advance
Original Link: AroundDB