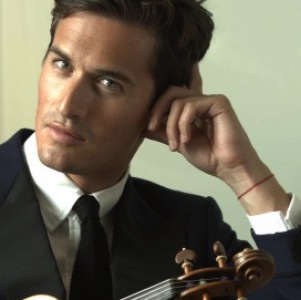 Other strings to his bow
— October 17, 2015
Hong Kong-bound British-Norwegian musician, one of the hottest stars of classical music, explains how he manages a hectic concert schedule as well as forays into the worlds of fashion and pop

There's an intensity to British-Norwegian violinist Charlie Siem that might be easy to overlook. One of the brightest young stars of the classical music world, he exudes a calm confidence – there's the Hugh Grant public school accent, impeccable manners – and his devastating good looks have seen him model for the likes of Dior, Hugo Boss and Dunhill. But these waters run deep and Siem will give Hong Kong a treat when he plays his debut concert at City Hall on November 21, with the City Chamber Orchestra under the baton of guest conductor Ken-David Masur.
You don't start playing the violin at the age of three – yes, really, he was three years old – and practise for hours every day without becoming not only very good at it, but developing an intensity in delivery. It's the music that has given him that depth.
"As a violinist I get to deal with works of genius, be it Bach, Mozart or Beethoven. Coming into contact with these characters on a daily basis, you are engaging with them in this transcendental language of music that goes beyond time and history because as soon as you starting playing those notes you are communicating with the guy who wrote it," he says.
That talent didn't come from his parents. Neither his Norwegian father nor his mother, who was born in South Africa, are musical – at least, not in the sense of playing an instrument, but his mother has always enjoyed music and played it to her children. However, the renowned 19th-century Norwegian violinist and composer Ole Bull can be traced back through the family tree, so perhaps some of that musical magic was passed on.
"I am distantly related to Ole Bull – that connection is definitely something exciting for me. I played a recital in his house near Bergen for his 200th anniversary. I played his violin when I visited his house, even tried on his clothes – he's been a great inspiration to me," he says.
Siem knew early what he wanted to do and was prepared to work hard for it. And it shaped his childhood. His parents were thrilled when he took to the violin so young, but were wary when he got so serious about it. "They thought it was important to have a broad-based education and keep one's options open. But I was determined to make it work, so I juggled my studies and my musical education and proved I could get by," says Siem.
A music scholarship took him to England's elite Eton College and he attended the school at the same time as the royals – Prince William was in his last year and Prince Harry was a year above Siem. From there it was on to Girton College at Cambridge University to study music. As he focused on his one true love, the world opened up to him. He didn't set out to grab the spotlight by teaming up with edgy artists – they came to him. And his collaborations with some of the hottest names in entertainment have not only boosted his exposure, but brought new fans to classical music.
"When people ask you to do things that don't require much effort and are a way of gaining exposure and widening your audience, and are fun as well, then it's hard to say no. It's happened quite organically – I've met these characters and they've said why not do this, and every time it's been an interesting and fun experience," says Siem.
Those characters include music stars Bryan Adams, Roger Daltrey from The Who, Boy George and Lady Gaga – all of whom met Siem through friends or friends of friends, enjoyed hanging out with him and suggested doing something together. In the case of Lady Gaga, a magazine editor who was a mutual friend was hosting a party for the singer and suggested he play.
"It was a really wild party and she came up and kissed me in the middle of the performance – it doesn't often happen. Hopefully, it'll happen in Hong Kong. Maybe I'll get that again," he says.
It was inevitable that he would be drawn into the world of fashion, although he insists that it wasn't something he went looking for ("I've always loved clothes, but in a more historical way. I'm not a very fashionable person").
Regardless, it is a world in which he seems perfectly at ease and one that has welcomed him with open arms – in 2011, he was the face of Dunhill and, more recently, Jason Wu picked him as the new face for Hugo Boss. But for Siem, music is always first and foremost.
"The fashion world is very good at packaging things and the music world presents some sort of substance. The two of them can go well together to garner a new audience because people are mesmerised by the packaging. So you put Mozart in that package to that huge audience in the fashion world and it can be a wonderful way of inspiring and stimulating people who wouldn't otherwise listen to Mozart," says Siem.
He's based in the south of France, and his travel schedule is relentless. Next month, as well as playing in Hong Kong, he will also perform in Poland, Leicester, Dallas and New York and then in Bristol and Istanbul before the end of the year. Accompanying him will be the 1735 Guarneri del Gesu d'Egville violin, which was played by the great American violinist, Yehudi Menuhin, and is on loan to him from the Elderberry Foundation.
"I've had it about eight years. One develops a close relationships with these things. You travel around the world with it and play it so much that it becomes an integral part of you. I put it above my head in the plane, the rest of the time it's in my hand," he says.
And he works hard to stay fit on the road. "I do a lot back exercises to correct my posture and counter that hunched-over position I tend to adopt when I play the violin. One has to have a strong core – in every sense," says Siem.
Original Link: SCMP