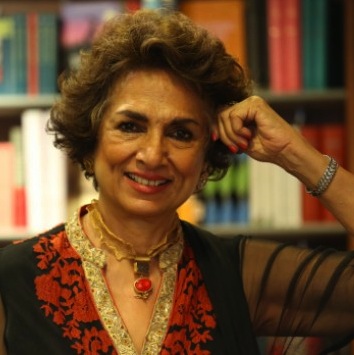 Partition, romance and a murder
— October 30, 2015
The fashion designer tells Kate Whitehead about being uprooted by the partition of India, her doomed romance with a Bollywood star and witnessing a killing at her restaurant.

BOAT TO SAFETY I lived in Karachi until I was four, when the partition of India happened. Any Sikh (in the newly formed Muslim Pakistan) was a target. My father went into hiding and through underground channels made arrangements for everyone to reach safety. My father was in the pharmaceutical business and had some contacts in India so we were able to exchange our home with an extremely wealthy Muslim merchant in Bombay. My parents had 12 children. Three had died – two as teenagers and one at birth – and I was the youngest of the nine left. We were packed off to India in twos and threes. I remember my sister, my older brother and I being on a big boat, people spilling out, and my mother on the dock getting smaller and smaller. I clung to my sister.
FULL HOUSE Initially it was just our family in this massive house. I have vivid memories of beautiful walls and bathrooms, the drawers full of beautiful Western clothes and high heels. The people who had lived in the house before left like we did, with just the clothes on their backs. Then other Sindhis started to pour into the city and moved into our house. There were about 80 people living in the house. In the last two years out of the four we lived there, our whole family was in one room. It was like a refugee camp.
THE GILDED CAGE When I was eight we moved into a beautiful apartment block facing the ocean. My father sent his sons to England for education, but the girls studied in India. We were groomed to be a good wife, make a good household. When I was 17 my father's business was doing well in England so my whole family moved to London. I wanted to be an architect, but my parents wouldn't allow it so I did courses in cooking, flower arranging and stuff like that. London was a gilded cage. Prosperity had arrived, we lived in luxury. My brother started a technology business; transistor radios were the big thing at the time and he named one after me – Binatone.
AFFAIRS OF THE HEART My parents wanted an arranged marriage for me and took me to India. Through friends I met (the actor) Shammi Kapoor; it was 10 months after his wife had died. He was a playboy and womaniser, and I had a lot of secret liaisons with him, but he was extremely respectful. It was hugely romantic. This went on for a year. Shammi and I decided to run away in early January. In December my parents said, "We've shown you many men and you've said no, and Shammi Kapoor is not on, so either marry the next one or we go back to London and you come with us." I hated the option of London, so the next one who came along I got engaged to. It was Andy Ramani. I had no intention of marrying him, but a week before Shammi and I were to run away, his mother put pressure on my parents to do the marriage before New Year's Eve. On December 31 the marriage took place.
KIDS KIDNAPPED My marriage was miserable from the beginning. He had an Australian girlfriend and I remained celibate for months. I began to fear him because I could do nothing right. Later we moved to New York, I had a daughter and quickly another followed. I had a job representing the Taj group of hotels in America but I could only work on the condition I gave my husband 80 per cent of my salary. Eventually, after 13 years, I left him following a violent episode that ended up in family court. That day he picked our children up from school, kidnapped them and took them to India. They were 10 and 11 and were told they were going out for a pizza and then put on a plane. He put them in a school outside Delhi and took away their passports. I moved to Delhi to be close to the children and started a business in fashion design to pay their school fees. He didn't pay anything. My fashion focused on businesswear and Hillary Clinton and Sonia Gandhi came to my shop. It gave me a lot of job satisfaction and put me back on my feet.
MURDER MOST FOUL I married a wonderful Canadian artist (Georges Mailhot) in Delhi 20 years ago. We invested in an old building where I had a boutique. It cost us little to buy and a fortune to renovate and became the hub of social life and art and fashion in Delhi. (In 1999), we had a big party at our restaurant there and a tragic murder took place – the murder of Jessica Lal (a model who was working as a barmaid at the party). I witnessed it. It was midnight and the party had ended but this boy insisted on getting alcohol. There was none. He fired two shots – one in the air and the other one hit her. The police were on his side immediately. They put me in jail for 10 days, did all kinds of things, because I wouldn't go along with their bribe offers. All the others were bought out. Six years after he was put in jail, he was suddenly acquitted. The president asked for a retrial. When the retrial happened and my testimony was used they tried to shoot us. I would get threats – "your daughter will be gang raped". Friends said, "Bina, just give in." I couldn't just suddenly change my story and live with it. Within three months of my auto-biography coming out (in November 2013), in which I give the full, true version of events, we got threats again. I don't like to see injustice. Now I do volunteer work with survivors of rape. They are mostly young, under 16, girls. We get the parents and have get-togethers. When a child is raped that family becomes ostracised; we ease that up for them.
Bina Ramani was in Hong Kong to promote her autobiography Bird in a Banyan Tree.
Original Link: SCMP