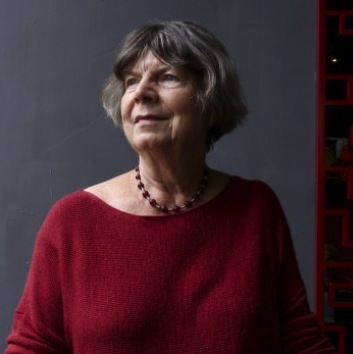 Drabble on marriage and personal space
— December 13, 2015
The British writer, headline author at the Hong Kong Literary Festival in November 2015, talks to Kate Whitehead about family, writing, and why she waited 30 years to move in with her second husband, and still sees the first

WAR BABY I was born at the outbreak of (the second world) war. My mother sometimes said, "If I'd known there was going to be a war on, you would never have been born." I was one of four children, the second child – I had an older sister, a younger sister and a very much younger brother. I was brought up in Sheffield (in northern England) and you could tell the war had just finished because it was very much a bombed city. Shops didn't have much in them – things were rationed.
CAMBRIDGE CALLING My parents both went to Cambridge University and it was imprinted on us that it was the right thing to do: all my siblings went there. My eldest sister (Dame Antonia Susan Duffy, known more commonly as the Booker Prize-winning A. S. Byatt) went to Cambridge first. People say we've had a fallout, but it's not really a fallout – it's just long, slow, annoying. I do see her occasionally and she sees some of the family. It's been a difficult relationship because we're in the same business. She has said she would have much preferred me to be an actress, but it didn't work out that way. I was very keen on the theatre and when I was at university I did a lot of stage work; it was a very theatrical time at Cambridge. I met my first husband, Clive Swift, there. Later, he was in the Royal Shakespeare Company, so I went to Stratford-upon-Avon with him. I was 21 when I got married and had my first baby in the same year. People got married very young in my day. It was a way of getting away from home.
ALL BEING NOT QUITE RIGHT I wrote my first book while I was expecting my first baby and, when it was published, I thought writing was a better, easier career. We had three children and I wrote through the whole period they were growing up. Clive was an actor so he was often out in the evenings, so I had that time to myself. I would have been very lonely if not for the writing. I was very lucky; I was published by the first publisher I approached. It was a time when new women's magazines were being founded, like Cosmo and Mademoiselle. There was quite a market for women's fiction. There were a lot of women like me, who wanted to read about what we were doing. It hadn't yet reached the stage of being angry or very consciously feminist, it was just a feeling that "all is not quite right". Now, I do consider myself a feminist. I'm not a militant – I don't go to meetings or marches – but I've always believed in equal rights.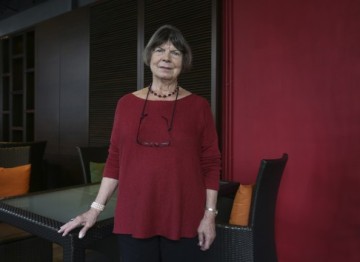 ONE WIFE, TWO HUSBANDS Clive and I were together for seven years, then we were semi-together, then divorced and now we see a lot of each other, we go out together a bit. I married again in 1982. My second husband (the biographer Michael Holroyd) had never been married before and my first husband never married again – so I'm their only wife. My second marriage was quite unconventional in that we didn't live in the same house for 30 years. Eventually, I sold my first house and moved in with Michael because he wasn't very well and I was tired of going back and forth. Michael's house in London is big and old. It has five floors, so we are not on top of each other at all. There's an upstairs and a downstairs where we have our own studies and we meet on the middle floor, where we entertain, and there is a dining room and a sitting room, where we watch television. I never go into Michael's study without saying, "I'm coming", and he wouldn't come in to mine. He gives me a call and asks me, "Can I bring you a cup of coffee?" Living in the same house, particularly when you both work at home, it's not a good idea. You need time off, time for your own career. Three or four years ago I bought a little house in Oxford, an hour's drive from west London. Having a room of one's own – or in my case a house of one's own – is really important. You need somewhere where you are completely autonomous and no one will interrupt you when you are in the middle of something.
NEW LIVES My eldest son, Adam, lives in Oxford. He's an academic and has grown-up children. My daughter, Becky, has a literary consultancy. My youngest son, Joe, didn't go to university like the other two; he does a gardening show on television, Gardeners' World. He's very good on television, very relaxed and he writes a gardening column in The Times.
I've just finished a novel that will come out next year. It's about ageing and how people cope with growing older, about friends and what happens to them. It's very much about how we live longer and people have to invent new lives for themselves. But I think the next one will be about childhood because I've had enough of writing about ageing. The part of writing that I really enjoy is the research – going to places, wandering around and having a look at things.
Original Link: SCMP