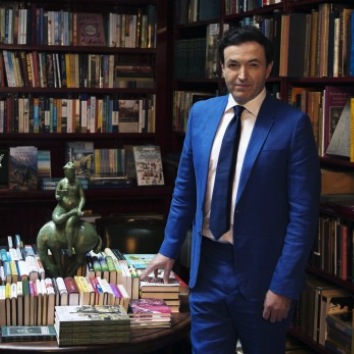 Bookseller Nicky Dunne on "exotic" HK
— November 22, 2015
The chairman of Heywood Hill, a London bookstore, tells Kate Whitehead about the snake in the bath at his Shek O 'shack' and playing Scrabble in Myanmar with diplomats sacked by the SLORC.

IDLE MIND I grew up on the Welsh border in Herefordshire [western England] on our family farm. It was a beautiful part of the world, but isolated – the nearest town was 10 miles (16km) away. I loved growing up there, but knew nothing about farming. I'm the youngest of four. My brother Philip now has the farm – he's a member of parliament. As a schoolboy I was useless, idle, not at all focused or determined. I did a lot of travelling though. My parents were keen to show us other parts of the world and ways of living and that's always been an interest.
T FOR TRAVEL I went to Manchester University, where I read anthropology; it appealed to me on a romantic level. I didn't really read anything at university, I hardly did any work at all, but I did have a business called Mr Shifty Leisure with two friends. We sold disgusting T-shirts. We recruited some of the best looking women in the student body to wear them and knock on students' doors – students never seemed to leave their rooms – and sell the T-shirts. We made about £5,000 a year each. It funded my travels and my first trip to China and Hong Kong, which seemed an exotic and glamorous place.
HONG KONG AHOY I wanted to work internationally, so after university I joined the graduate programme of one of the biggest shipbrokers, Clarksons. Within a year you would be sent abroad, but you had no control over where you would be sent. I worked on the sale and purchase desk for large ships. I was known as "la-di-da" because of my accent. My job involved parking the Lamborghinis of the senior brokers and getting them their Marmite on toast. In 1993, I was posted to Hong Kong. The office was in Wan Chai. What I didn't realise was I was being sent against the wishes of the boss of the Hong Kong office, Tim Huxley. For the first week I shared a work station with him and he didn't say a word to me; it was quite disconcerting. I worked for Tim for two years and had good fun going around Asia with him, meeting shipowners and buying and selling ships. We are firm friends now. I lived in Mid-Levels but after a while I moved to Shek O. The only place we could afford was a hot, airless and mosquito-infested shack just back from the beach. The first morning there, after a storm, I found a snake in the bath – it had come up through the drain. I called the landlord and asked who I should call at the Agriculture and Fisheries Department about taking it away, and he said, "Don't call them, I'll eat it."
BURMA CALLING Since I hadn't done much studying at university, it was only now I realised the world was full of interesting and challenging things of which I knew nothing about. It was during my time in Hong Kong that I started to read a lot – about the history of China, Southeast Asia and all these places I was going to. I didn't think I was particularly good at being a shipbroker so I looked around for something else. I joined a public affairs firm founded by (businessman) Peter Batey and Richard Burn, who had been political secretary to Sir Edward Heath, a former British prime minister. They took me on because they had an opportunity in Burma. It was 1996 and the wretched SLORC – the State Law and Order Restoration Council – were making tentative noises about reform and opening up to Western investment. Rather than going on what they could read in The Economist, a few companies were willing to pay for information from on the ground. I was in Yangon for just over a year and I loved it. I was lucky to fall in with some highly educated Burmese former diplomats who had been thrown out by the regime. English-language books were banned but they played Scrabble, passing around an old Chambers Dictionary. Aung San Suu Kyi was under house arrest and she gave talks from her garden gate on Sunday afternoons. There would be a crowd of 3,000 sitting on the road outside her house. She usually said a few words in English for the few foreigners – it's a strong, special memory.
A NEW CHAPTER In 2003, I met my wife, Jasmine Cavendish – we met at a series of friends' weddings. She is the daughter of the Duke of Devonshire and at the time was working in film production, but now we have three young children and they take up her time. Her father was a shareholder at the London bookshop Heywood Hill. Knowing the amount of time I spent reading books and at the British Library, he put me on the board so I could go to meetings instead of him. I saw a perfect storm in the book world – the rise of e-books, Amazon and discount retailing – and saw this little shop struggle to the point of being unviable. Rather than thinking about my consultancy business, I was spending all my time thinking about the bookshop and how to keep it going, so I suggested to the board that I give it a go. I started in 2011, and spent the first 18 months at the front of house dealing with customers. We have a very international customer base, very unusual for a small bookshop – we've got 5,000 to 6,000 customers in 70 to 80 countries. We are unlike a normal high-street bookshop – we get to know our customers and their tastes and can recommend books. Every week somebody exciting comes through the door – either they are a great writer or a book collector. What we all share is a love of good writing.
Original Link: SCMP