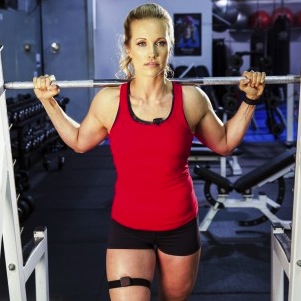 Next generation of wearable devices
— November 22, 2015
Wearable trackers have got smarter and better looking

Is that health tracker on your wrist only counting steps, calories and slumber for you? Perhaps it's time to update to a smarter wearable device.
The team at Ollinfit in Toronto is at the forefront of the next generation of wearable devices. The three founders were classmates at McMaster University, studying electronic and biomedical engineering. In their final year, Ibadat Bambrah began going to the gym.
"I thought, 'wouldn't it be great to create something for people who are new to the gym'. A personal trainer costs about US$70 per session. That's too expensive for a student, and if you go online there's so much information people get confused," says Bambrah.
And that's what Bambrah and his two former classmates Hani Abidi and Hendrik Poernama are working on. They are midway through a crowdfunding campaign on Kickstarter to launch Ollinfit, a set of three wearable sensors and a smartphone app that work together to give live feedback about a gym session. It will be like having your own personal trainer with you.
"We worked with personal trainers and built up a database of common mistakes, what's right and wrong when it comes to exercise," says Bambrah.
Key to the Ollinfit system is three small sensors, each containing an accelerometer that measures direction and speed of movement. The sensors – which are attached to bands – are worn strategically depending on the exercise to accurately capture your full range of motion. The app then crunches the data and gives instant voice prompt and vibration feedback on how to correct form.
"There are a lot of people who don't realise the importance of good form. By monitoring someone doing a workout and focusing on form quality it will help to prevent injury," says Poernama.
The wearable device trend exploded this year. April saw the launch of the much-hyped Apple Watch and a couple of months later came the initial public offering of wearables maker Fitbit. And things are just warming up.
It's a crowded marketplace and big players such as Jawbone, Garmin and Fitbit are competing for a share of the pie. Let's not forget the idea is simple – wear one of these devices and gather data about your activity levels to make decisions about your health. They can also be a great motivator.
So far, response to Ollinfit has been positive, from the people they've spoken to as well as the nearly 200 people who are supporting their Kickstarter campaign (concluded November 19). They have already been approached about adapting the technology for those in rehabilitation and recovering from a sports injury.
"We are speaking to people about creating a device for those who are prescribed exercises but don't have time to see a therapist every few days. The app could help them with their form and the therapist would be able to see their programme online," says Poernama.
This is the next step in wearable devices – collecting data, interpreting it and offering guidance. Bambrah is excited about the potential.
"It could be for someone who is injured because of a lack of exercise or an accident or disease – anyone recovering and trying to get back their full range of motion," says Bambrah.
Wearable devices are getting even smarter and are getting more beautiful. A survey conducted last year by strategy consulting firm Endeavour Partners found that 50 per cent of users lose interest in their wearables and cite aesthetics as one of the top reasons for returning them. Producers are increasingly paying attention to function and fashion.
David Ko, managing director of Daylight Partnership, oversees social media for Fitbit in Hong Kong and says they were seeing a lot of requests for new colours.
"People want bands that match what they are wearing," says Ko.
Fitbit Charge HR launched in April with a choice of two colours – black or plum. Tangerine and blue wristbands came out last month. There is also the Tory Burch Fitbit, a collaboration that sees Fitbit Flex technology in a collection of gold, silver and rose gold bracelets and pendants.
Another big name in jewellery to embrace the trend is the Austrian maker of luxury cut lead glass, Swarovski. Earlier this year it teamed up with technology company Misfit to launch the Swarovski Shine collection, a line of flashy solar-powered activity trackers.
Wearables are great for monitoring fitness levels and motivation to exercise, but what if there are specific health issues?
Marco Peluso is founder and CEO of Qardio. He was inspired to create a product to monitor heart health after his father experienced a stroke. He wanted a device that could easily allow his dad to monitor his own health on a daily basis. QuardioArm is a blood pressure monitor that doesn't look like a medical device. It's a beautiful looking, compact device that works with Android and Apple Health and monitors heart rate, body temperature, stress level and respiratory rate.
Another new gadget that makes professional medical readings available is the iThermometer by Beijing-based Raiing. Available this year for US$99, the device can wirelessly monitor real-time temperature and send the information to a smartphone. If temperature raises over a critical point, it sends an alert and tips on what to do. It is useful for children who are vulnerable to body temperature increases.
For example, Topiramate is a drug given to very young children with epilepsy. The drugs works well, but one of the side effects is increased body temperature. iThermometer would allow the body temperature to be measured continuously and fluctuations immediately noted.
The same firm recently also launched iFertracker, a patch that is a must-have for women wanting to get pregnant. Worn under the armpit when the user sleeps, it monitors temperature variations to 0.005 degrees Celsius and can predict ovulation and crunch the data to work out the likely possibility of getting pregnant.
Looking ahead, there are some exciting wearables in the pipeline. Being is a mindfulness tracker from the Singaporean company Zensorium that claims to be able to tell good stress from bad as well as track your heart rate, blood pressure and sleep cycles. What makes this one exciting is that it aims to track the user's emotions through heart rate monitoring and suggests deep breathing exercises when stress levels are high. It is available for pre-order (US$199) online.
The next generation of devices isn't just helping us gather information on our health and fitness, it's crunching the data and telling us what to do about it. And gadgets will be so good looking you'll want to wear them: a fashion and lifestyle statement.
Original Link: SCMP