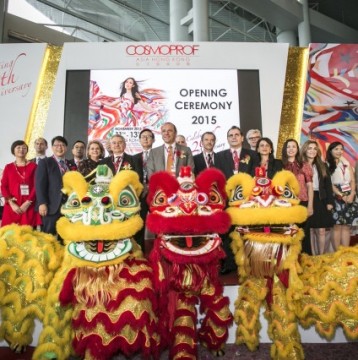 Korean Beauty Brands Shine at Cosmoprof Asia
— December 3, 2015
HONG KONG — Cosmoprof Asia celebrated its 20th edition with its biggest ever fair. The three-day event featured 2,504 exhibitors, a 6 percent increase over last year, cementing its position as Asia's leading trade fair for the beauty and wellness industry.

Foot traffic at the three-day event, held last month, was heavy with 63,241 visitors. That is up by 5.5 percent over last year's count.
The exhibition area also increased 3 percent to 84,000 square meters, running over five levels of the Hong Kong Convention and Exhibition Centre in Wan Chai. Despite the vast size the fair was packed, buzzing with buyers even on the higher floors.
Korean brands saw strong interest not just within Asia, but also from international buyers. Jung Jung Em, director of Purecos Inc., which produces natural cosmetics under several brands including Mediblock and Mediclass, said she had been coming to the fair for eight years and this was the best yet.
"In 2008, it was just the Asians who were interested, now we see a lot of buyers from Russia, Singapore and Hong Kong. Many people in Russia now know our brand, Russia is a big market for us," said Jung, adding that the seaweed mask was the bestseller.
Also from Korea, O'melon Cosmetics promoted its latest light-therapy treatments that are popular with spas in Korean and Hong Kong spas. The new Omega-light LLLT (low-level light therapy) photodynamic therapy was initially used to help wounds heal and reduce pain and is now used to treat acne and improve skin quality. Spokesperson Emma Lee said they were seeing a lot of interest from Germany, a new market for the brand. She also noted a new trend in how consumers want to use their products.
"We are seeing more people who want to use spa products at home. We are working towards adapting some of the products, like the light therapy, for use at home — maybe next year we can show it," said Lee.
Despite concerns back home following the depreciation of the yen, a large contingent of Japanese exhibitors attended, taking 61 booths over several levels of the fair. Many of the Japanese exhibitors reflected the trend for natural products made using organic ingredients. Brightening-care brand White Ichigo is a standout example. Made using the extract of white strawberries, it is targeted at women in their 20s and promises skin whitening and hydration.
"People want organic —natural ingredients, no additives or artificial colors — and they want high-tech, we use Japanese agricultural and cosmetics technology. The result is both gentle and effective," said Akiko Mitani from Ichigo Inc.
Mariko Arai, director of the fashion industry department at Japan External Trade Organization, said Japanese brands have traditionally appealed to Asians because they have similar skin types and are looking for whitening products, but she had noticed an increase in interest from overseas.
The Russians are also experiencing a currency crisis back home, but that didn't stop them from attending the fair in good numbers and many exhibitors counted them among their top buyers. Mikhail Ivanov traveled to the fair with a group of five Russians, all focused on buying nail products and accessories. He placed an order with a Chinese company that he'd bought from before.
"Yes, the Russian ruble is falling, but the prices in China are still cheap. I have been four times now and I will be back next year," he said.
But South African buyer Henk Van den Berg from Base Corrections said he avoided Chinese products and kept to European and American brands.
"With Chinese products you can't be sure the quality will be good. We have ads on the radio in South Africa to promote our products and we always say they are from the U.S. or Europe: it shows a level of quality," said Van den Berg.
He said he'd attended the fair for four years consecutively because he wanted to stay on top of trends in nail technology and accessories and he had yet to be disappointed. This year he was excited to find the U.S. brand Mini Mani Moo and has ordered its hugely popular Mess no More! Liquid Tape that helps keep fingers clean when applying polish or nail art.
Mark Landis, chief executive at Mini Mani Moo, was delighted with the success of the product that was only launched 11 months ago and is already sold in 85 countries. The success of the patented formula is in large part thanks to the Internet, but he said it was still important to attend fairs.
"This fair has been great for us, already we've signed up with people wanting to distribute it in Japan, the Czech Republic, Hong Kong, China, Australia, France — all over the world. And that was just one day. Next year we will go to 16 fairs all over the world — we have more cool new products to launch," said Landis.
Katie Thraves from the Australian company Selfcare Corporation said they were seeing a lot of interest in Freeze Frame, a product line that uses high-tech multitasking ingredients.
"There are lots of people looking for Australian products. We've been so busy we don't even have time to take lunch. We're huge in Australia and also doing well in New Zealand and South Africa, this fair we are seeing a lot of interest from China and also the UK. It's been good for us," said Thraves.
Aside from natural, organic products and a move toward at-home beauty, the other two big trends were multifunctional cosmetics and hair and scalp care. Particularly when it comes to cosmetics for the face, the products were seen to be working hard. Take the 5-in-1 Deoproce UV Waterful Cushion by the Korean brand Green Cos, it combines five functions — moisturizing, UV blocking, antiwrinkle, whitening and make-up in one powder. And hair care products were also working harder with a trend toward products that not only make hair look good but also care for the scalp. Hair O'right International in Taiwan has brought out a hair tonic for women that helps prevent hair loss and also serves as a perfume.