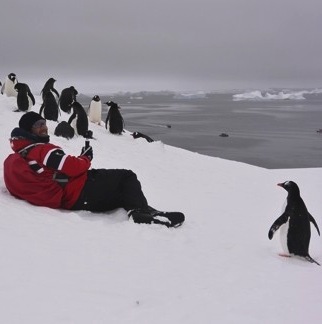 Hong Kong citizen scientists
— January 7, 2016
Volunteers sailing to frozen continent help conduct penguin and seabird surveys, monitor ecological changes, take seawater samples and look out for whales and other marine species

Summer is when penguins come ashore in the Antarctic to mate and raise their chicks. And when the wind drops in sheltered Andvord Bay, all that disturbs the water is the occasional raft of cavorting penguins.
First-time visitors to Antarctica cannot help but be awed by the scene. It is at once magical and hilarious: who wouldn't crack a smile at the first sight of a penguin waddling along, its fins extended for balance? But people who have been coming to this spot regularly may notice something different about the birds – they aren't the same penguins that were here five years ago.
Most penguins that came ashore at Andvord Bay this year – and for the past few years – have been gentoos. They have red bills and are most easily recognised by the white, bonnet-like marking across the top of their heads.
But it wasn't so long ago when the shores at Andvord were favoured by Adélie penguins.
Recognised by their black head and beak, Adélies are only found in the Antarctic, and like emperor penguins, can tolerate extremely cold weather.
Gentoos, however, are a sub-Antarctic species that breed in ice-free sites and don't do well in extreme cold.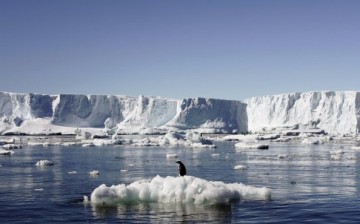 "What we've been seeing over the past five years is that the gentoos are starting to come into areas that used to be just [populated by] Adélies. In other words, it's getting warm enough for them to be there and the Adélies are being pushed further south," says Bob Gilmore, citizen science coordinator on the expedition ship Polar Latitudes.
A geologist by training, Gilmore worked for the US Antarctic Programme at McMurdo Station for four years. But since 2004, he has been visiting the continent as an expedition guide, working the "season", from October to March, when the ice melts enough to allow ships passage.
Now in his 16th season, Gilmore says there's good reason to be concerned about changes in the icy continent – and this year he has done something about it.
In late October, he launched a citizen science programme for Polar Latitudes, a company operating luxury cruises to the Antarctic.
It is the result of months of preparation, reaching out to scientists to see if they would be interested in data that cruise ships could collect at the icy continent.
"When I told the scientists that we are down here every 10 days they were really surprised. Unless they are on a base, [researchers] can only get here two or maybe three times a year. That's when the whole thing got started," says Gilmore.
The National Snow and Ice Data Centre in Boulder, Colorado, and three universities have signed up to the programme and are keen to receive and interpret the findings.
Dr Ted Scambos at the Colorado centre and the Department of Oceanography at the University of Hawaii want to study the 3D imagery and time-lapse photography that the cruise ships can gather of the glaciers. Dr Martin Truffer at the University of Alaska, Fairbanks, is also interested in the glaciers and Dr Heather Lynch at Stony Brook University in New York is keen to see the results of penguin and seabird surveys,and information on ecological changes on the peninsula. The project will also look out for whales and other marine species and conduct oceanography tests – taking seawater samples, and recording salinity and meteorological data.
"We are going to do that all season, [gather] as many data points as we can, so that at the end of the season we can pull all the data together and see what trends we're getting," Gilmore says.
Citizen Science fever has gripped polar tour operators in the past couple of years and field staff from the International Association of Antarctic Tour Operations (IAATO) and the Association of Arctic Expedition Cruise Operators got together at a conference in Toronto in October to share information about such projects. Many are looking to either establish their own programme or promote a well-established one.
Hong Kong resident David Wollowick was among the 100 passengers on Polar Latitudes' expedition ship Sea Explorer that sailed to Antarctica in mid-November, and listened to Gilmore's explanation of their citizen science initiative with interest,
"Before going I was already very concerned about climate change, especially when we wake up every morning in Hong Kong to see pollution right outside our windows," Wollowick says. "We need to take baby steps to protect the environment and I believe citizen science is a way of doing that."
Gilmore wasted little time getting his volunteers to work. As soon as Sea Explorer entered the Drake Passage, the frequently rough channel lying between Cape Horn and Antarctica, he and about seven passengers began taking water samples.
This meant venturing out on deck, often in pretty windy and choppy conditions, to drop a container over the side of a ship to collect some sea water and check its salinity. The team then went up to the bridge to check the water temperature and record the data on a chart.
Canadian-born visitor Norman Fengalso found it a rewarding experience.
"We collected the data for water salinity and temperature on both Drake crossings. I wonder if it will change next year. It makes you want to go back. You don't appreciate the science behind the study of ice and water until you actually do it," says Feng, 32.
IAATO,which oversees tourism in the Antarctic, has strict guidelines about how cruise ships and passengers must behave in Antarctica.
Its executive director Kim Crosbie says the organisation has always supported projects that require input from visitors, but notes that such programmes have become more sophisticated.
While they were once focused on collecting observations and images of marine mammals, the projects are becoming more diverse – collecting oceanographic and sea ice measurements, for example.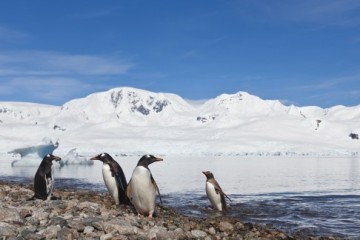 Crosbie believes this is because the guides are often highly educated (many hold doctorates) and are able to design and co-ordinateprogrammes and teach visitors how to collect data.
"IAATO member operators travel to remote areas that are difficult and costly to reach so there is great opportunity to boost our knowledge in fields we know little about. The programmes also enrich a visitor's experience of Antarctica by getting them involved and contributing to something bigger," she says.
Dr Annette Bombosch, a member of the Polar Latitudes expedition team, is just the sort of specialist guide that Crosbie is talking about. The German marine biologist earned her masters degree in marine conservation in New Zealand and did her doctorate at the German Polar Research Institute studying Antarctic whales – the perfect person to have on the bridge when you are trying to spot whales, another aspect of the Citizen Science Project.
On Sea Explorer, she introduces passengers to Happy Whale, a project founded by Ted Cheeseman of Cheesemans' Ecology Safaris in 2014that encourages people to submit photos of whales seen in the wild.
"The Antarctic oceans had the greatest population of whales in the world before they were almost totally wiped out last century. Now most are recovering – we think. These are the most important seas in the world for the health of whales, yet we know very little about what's going on. Citizen Science has the power to change this," Cheeseman says.
Bombosch adds: "The whole of IAATO is talking about how we can involve the guests more because we do go to the same places all the time. There are lots of ships down here, so lots of eyes to see things and take samples. And guests seem to enjoy it."
Original Link: SCMP
[PDF url=http://www.hongkongkate.com/wp-content/uploads/2016/01/397-SCMP-Citizen-Science.pdf]