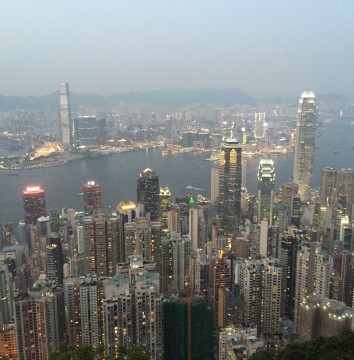 Hong Kong real estate commands top dollar
— January 27, 2016
Rental prices here might be dropping overall but fashion and watch retailers are were still paying sky-high sums for space in the fourth quarter of 2015, according to a report by Retail in Asia, a networking site for the retail community.

The report focused on the major release transactions in the hot shopping districts – Central, Causeway Bay, Tsim Sha Tsui and Mong Kok.
Luxury eyewear retailer Puyi Optical is paying top dollar for its 750-square-foot store on Canton Road in Tsim Sha Tsui. Located right in the heart of the popular mainland shopping center, the store commands the highest rent in the city at 3,200 Hong Kong dollars, or $411, per square foot.
Folli Follie's store on Percival Street in Causeway Bay faces out onto the main shopping thoroughfare Russell Street. The fashion jeweler brand pays 850,000 Hong Kong dollars, or $109,073, a month for its 600 square-foot store. At 1,417 Hong Kong dollars, or $181 per square foot, Folli Follie is paying the second highest rent in the city, followed by Swarovski, which will pay 1,316 Hong Kong dollars, or $169 per square foot for its retail space on the corner of Russell Street.
In Central, Swiss watchmaker Blancpain is paying 1.8 million Hong Kong dollars, or $230,977 a month for its 1,654-square foot retail space. This is 36 percent less than the previous tenant Baldinini, but nevertheless a big outlay at a time when sales of watches and jewelry are falling in Hong Kong.
While luxury fashion retailers occupy the prime ground floor spaces on popular shopping streets, other businesses tend to take up spots on higher floors or locate on neighboring streets where rents are lower. For example, in Causeway Bay, Wong Kee Restaurant pays 300,000 Hong Kong dollars, or $38,496, a month for a 1,600-square foot space on Tang Lung Street, just behind Russell Street, representing 137 Hong Kong dollars, or about $18 per square foot.
Overall rents fell by 2 percent in the fourth quarter of 2015 compared to the previous quarter, resulting in a 17 percent decline for the whole of 2015, according to real estate firm CBRE. In Causeway Bay rents fell 24 percent year on year, while rents in Tsim Sha Tsui, Central and Mong Kok showed a double-digit decline.
Hong Kong retail sales fell 7.8 percent in November – reminding retailers of the challenges they faced in 2003 when the city was hit by SARS. The sales of jewelry, watches, clocks and valuable items were hardest hit in November, plunging 20.6 percent and marking the 15th consecutive month of decline.
Once a top shopping destination for mainland Chinese tourists, Hong Kong's popularity is waning as Chinese consumers head to other destinations like Japan and Europe. That trend is expected to continue through Chinese New Year, which is coming up early next month.
In response, some luxury brands are scaling back their retail presence and attempting to reduce their cost base in Hong Kong. Coach exited its lease on a large four-story flagship here two years early and Adidas is preparing to move into the space.