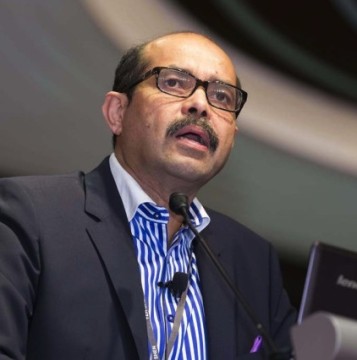 Prime Source details new industry dynamic
— April 8, 2014
HONG KONG — The global textile and apparel industry is undergoing rapid changes.

Traditional business models, manufacturing bases and markets are evolving, and retailers and suppliers need to keep up or risk losing out, said sourcing executives at the Prime Source Forum here. Acknowledging the tough market over the last few years, Felix Chung Kwok-pan, a Liberal Party lawmaker and member of Hong Kong's Functional Constituency for Textiles and Garment, said the long-established way of doing business was no longer workable.
"The production is moving away, the textile industry is changing to a fashion industry, sustainability and the IP trade — this is the right direction for us. If we follow this direction we'll have a bright future," Chung said on the second day of the conference at the InterContinental Hotel in Kowloon.
The movement of manufacturing away from China was a common thread through the panel discussions. Rising labor costs and trade agreements are behind the sea change that is seeing Association of Southeast Asian Nations, or ASEAN, manufacturing bases swell and prompting changes in the supply chain. But don't be too quick to write off China — all the speakers at the two-day conference that ended Wednesday agreed it would remain the dominant player for some time.
Global brands such as Adidas, Gap and Uniqlo that have come to the fore over the last decade want global sourcing solutions, said Jason Tan, executive vice president of Luen Thai Holdings. By adopting a multiple country of origin sourcing strategy, they benefit from duty savings by taking advantage of the different trade policies between supplier country and destination market. His company is one of the many that have moved their supply chains to ASEAN countries — Brunei, Cambodia, Indonesia, Laos, Malaysia, Myanmar, the Philippines, Singapore, Thailand and Vietnam.
"I believe this shift is driven by the customer's need for diversification and alternatives, by trade agreements and by the customer's need for a shorter lead time and a more flexible and responsive supply chain," said Tan.
Trade policies and lower operating costs meant Vietnam and Cambodia, and possibly Myanmar in the future, will see major growth.
"With [the Trans-Pacific Partnership] on the horizon, we believe there is a compelling reason for upstream supply chain — the spinning, weaving and dyeing — to shift its manufacturing base to Vietnam," Tan said. "It's only a matter of time before Vietnam develops its own upstream raw material capability."
Despite his enthusiasm for the new manufacturing bases, he said China's supply chain maturity and skilled labor force mean it will continue to dominate the market, but at a reduced rate of growth. Last year, China's garment industry pulled in $284.07 billion, according to Chinese Customs. That accounts for 12.9 percent of the country's trade and makes it the third largest industry in terms of exports.
"China's garment industry is at a highly sensitive consolidation phase. If the consolidation goes as planned, we can expect a five- to 10-year period of beneficial growth," said Zhang Xian, secretary general of the General Chamber of Commerce for Import & Export of Textiles and Apparel.
European, American and Japanese retailers have all put pressure on Chinese suppliers to satisfy demands about environmental impact, quality control and social responsibilities.
"All these requirements have been stepped up in recent years, so companies that are able to integrate their supply chains will become the top choice," said Zhang.
Good infrastructure, high-quality labor, complete industry chains and effective distribution of information and logistics services mean China's east coast will continue to be an important base for manufacturing, said Zhang, despite the competitive advantage of other markets.
"Industry transfer of middle- to low-end trade to the midwest of China, as well as Africa and Southeast Asia, is an imminent trend and a win-win scenario for most enterprises; however, the main arena will remain on the east coast of China," said Zhang.
In this new paradigm, roles are shifting. The long-standing supply chain model of a low-cost developing country producing and supplying mature markets such as the U.S., the European Union and Japan is changing, said Tan. He argued that it's no longer clear which is the low-cost country and which is the mature one, and that there isn't a clear distinction between the two.
"It's not easy to determine which country is low-cost because there are many other factors besides just wage, such as supply chain maturity, stability of the work force and different trade agreements," said Tan.
With an increasingly complex supply chain there is no longer one right business model, but rather the one that best fits the brand, the market where it operates and its product strategy, he said.
Commenting on the changes in China, Jaswinder Bedi, president of the African Cotton & Textiles Industry Federation, said, "Will China be the factory of the world? No. Will it be the market of the world? Yes."
Hong Kong-based Andrew Lo, chief executive officer of the Crystal Group, which runs offshore factories, said while he still believed in China, he saw it becoming more upmarket and more niche and pointed to five attractive alternatives to the mainland — Vietnam, Indonesia, Cambodia, Myanmar and Bangladesh.
"All except Bangladesh are ASEAN countries, but even that is next door to Myanmar, which is an ASEAN country, so logisticswise, it's similar," he said, explaining that being a short-haul flight away from the factory was an advantage from a management perspective.
Yuttana Silpsarnvitch, executive director of the Thai Garment Manufacturers Association, said although Myanmar was still in its infancy, it had great potential.
"They have plenty of skilled workers…they have everything except the facility, so I think within five years we can be there," said Silpsarnvitch.
Bangladesh was the subject of the keynote address, an opportunity for Atiqul Islam, president of the Bangladesh Garment Manufacturers and Exporters Association, to address the concerns in the aftermath of the recent disasters — the garment factory fire in 2012 that killed more than 100 people and the Rana Plaza factory collapse last year that killed more than 1,100.
Islam catalogued all that had been done to improve safety standards and compensate workers, but faced some tough questions from the audience. He said the cost of adopting new safety measures — retrofitting the building, buying fire doors and sprinklers — is a major stumbling block for factory owners in Bangladesh, where bank interest charges are more than 16 percent. Of the 4,000 factories in Bangladesh, he said, 1,600 have been checked for safety and, of those, just three had been failed by the review committee and closed because they were considered unsafe.
But for Tan, Bangladesh is no longer an attractive option. The lower labor costs and preferential trade policy with the EU that had been the key drivers of its growth no longer outweighed the negatives.
"I believe the limited supply chain resources and the longer lead time are roadblocks for Bangladesh," he said.
Commenting on the Rana Plaza disaster, Charles Dickinson, head of global quality management and sustainability at Esprit, said one of the most shocking aspects of the tragedy was that six of the eight brands that were at the factory denied being there.
"They weren't supposed to be there, but they were there," said Dickinson, highlighting another hot topic of debate, subcontracting.
Because suppliers rarely say no to a deal, subcontracting is rife in the industry, and while many brands think they know where their goods are being produced, unless they keep a careful watch, they can easily be kept out of the loop.
"In the fashion industry, it is still a bit fast and loose in some parts of the world," Dickinson added.