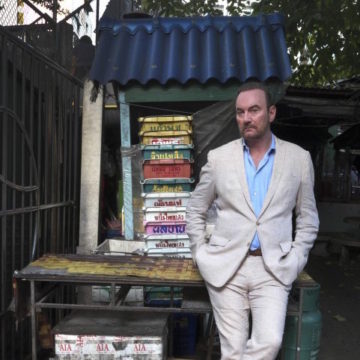 Repression, psychopaths and the class system
— April 21, 2016
Lawrence Osborne writer tells Kate Whitehead how a middle-class boy from Sussex became one of Britain's most accomplished novelists.

British novelist Lawrence Osborne is a wonderful storyteller – and not just on the page. He's a raconteur of the old-school variety, the sort who holds court at the bar with ease. And although he has a reputation for being someone who likes a drink, when it comes to talking, it seems booze isn't required.
We meet over coffee at the Luxe Manor. Our window table overlooks another Tsim Sha Tsui hotel, which, as Osborne informs me, is one of the biggest brothels in the world. He's prone to exaggeration – surely part and parcel of being an engaging storyteller – and he's generous with his tales, there's no sense that he's holding anything back. He's also a dapper dresser, on this occasion wearing an ivory-coloured linen suit with a scarf wrapped around his neck (he is recovering from a sore throat) and smart leather shoes.
The conversation is fast and wide ranging. He has plenty of adventure stories, many of which begin with sweeping statements such as, "On the way down to the Gobi we stopped at a remote market to buy some caviar …" As you do.
He has been compared to Paul Bowles and Evelyn Waugh – both writers with severe cases of wanderlust – but describing him as a travel writer is the only thing that seems to ruffle Osborne's feathers.
"I don't know where this thing about me being a travel writer comes from. It's nothing to do with me, I hate travel writing. I don't do it – I do it a little bit, but not much. I don't believe in it, I think it's over. The world is so saturated now that you don't need it," he says.
We've barely been seated 10 minutes before he is describing in depth one of his first trips to Asia. Writing for The New York Times primarily on medical issues, he was sent to research a story about a syndrome that sends sufferers into a startled, hyper trance. He briefly explains the neurological reason, mentions a tribe in remote Malaysia and then throws his hands in the air and says, "Why do transsexuals, gay prostitutes and old ladies all have this same thing in common? Well, because it's to do with sexual repression. It's to do with not having an outlet for your sexual drives."
You can't be prudish around this man, nor would you want to be because you'd be missing out on the fun. There's a sense that he's still creating and adjusting to his new public persona. It's only in the last year that he has been profiled in newspapers and magazines – previously, as a full-time journalist, it was he who was asking the questions.
A recent profile in the Guardian newspaper claims he has quietly been building a reputation as "one of Britain's most accomplished novelists". He has been writing for decades but the stars have finally aligned and he's on a roll, or, as Monocle magazine puts it, "Osborne is hitting mean form as a writer of exotic literary thrillers …"
First came The Forgiven, in 2012, a white-knuckle ride set in Morocco (where he lived in 1987), then a non-fiction book about drinking, The Wet and the Dry (2013), which received rave reviews. In 2014 came The Ballad of a Small Player, about "Lord Doyle", a British lawyer on the run in Macau, and last year, Hunters in the Dark, set in Cambodia, was released.
"I've only published novels for about 2½ years. It's relatively recent, so it's happening very quickly," says the 57-year-old, not entirely accurately.
His debut novel was actually published in 1986. Osborne married soon after university and he and his young Polish bride went to live in Warsaw. It was in Poland that he got the idea for Ania Malina, a novel about a wounded British soldier's affair with a teenaged Polish refugee in 1945.
Looking back, he says, it was a dark novel and he'd probably find it embarrassing to read now (a Goodreads reviewer wrote of the book's central character, "I'm finding it hard to empathise with this paedophile"). But let's not forget he was only young and it was his first attempt at fiction. And the reviews were good enough to earn a contract for a second book, although that was the kiss of death, he says. Feeling the pressure, he wrote quickly and turned in a poor manuscript.
"I didn't know what I was doing. Writers at that age need a mentor who can take you aside and say, 'Don't do anything for 10 years. Just travel. You don't have to listen to these people who think they can make money. Just don't do anything.'"
Osborne was born into a middle-class family and grew up in Haywards Heath, in Sussex – no surprise, then, that the central characters of his last two novels both hail from rural southeast England and are lost souls adrift in a foreign land. His grandfather was a chauffeur for Asa Briggs, the vice-chancellor at Sussex University, and, as a child, Lawrence was invited to the academic's house for tea.
"My grandfather was an amazing cap-in-hand guy. Asa Briggs was a historian of class history so he felt obligated to bring in his driver. That's the English class thing that is much weaker now," says Osborne, the first of a number of references to the British class system.
He went to a secondary modern school (where the majority who did not make elite grammar schools went) – "It was a sh**ty school, I did nothing at all, was a complete dropout." Rather late in his school life, Osborne decided he wanted to go to university and applied himself with a ferocious determination to his studies, taking eight O-Levels and four A-Levels in one summer.
"I said to myself, 'I'm going to get an A in every single one', and I did. Exams are not very hard. People find them hard because they don't work – it's just a matter of labour. Once you actually start doing it, it's like cracking eggs. You don't need to be smart. As everything is in life, it's about concentration," he says.
Excellent grades opened the door to reading English at Cambridge University, one of Britain's most elite institutions, although he says he experienced no class issues there.
"It was perfectly fine because I decided to be fine about it. The fact is that upper-class intellectuals are perfectly nice people and they accept you if you have the same interests, so I had a lot of 'aristo' friends there. It was no problem at all, contrary to popular myth. If you don't make it an issue, it isn't an issue."
What was an issue, however, was his earlier schooling. Rather than a Cambridge degree, what really counted in the publishing world was a public school education.
"The literary world was 90 per cent public school, it was a really little club. Salman Rushdie went to Rugby [School] – you forget where they come from. I realised after a couple of years of being in London that this wasn't going to work. It's like a Hindu class system," says Osborne.
So he left London and has been away for more than 25 years, with no plans to return permanently. From Poland, he and his new bride moved to Italy, then Paris, where his son was born.
On the strength of Ania Malina, a Californian newspaper offered Osborne a job and he moved to the Golden State with his family. The marriage began to crumble as his journalism career took off and he moved to New York. He hints darkly at some tough times with little money, but then shares stories of parties and socialising.
"Hanging out in New York is a tremendous, instrumental, game-playing, social …" he says, almost finishing the sentence before hurtling on. "It's very distracting and you've got to put time into it and, if you opt out, people think you're strange, your friends get resentful."
Perhaps because Osborne wears his heart so obviously on his sleeve, he is occasionally contradictory. He speaks highly of New York then, in the next breath, admits he felt weird and uncomfortable in the city.
"It was good when you were younger and ambitious and wanted to get things done, but you're wasting time there. A lot of it was wasted time. I probably could have got to that stage earlier [in my writing] if I'd just gone somewhere calmer. Unfortunately, I wasn't able to do that financially – it's just the way life works out," he says.
He lived in the Big Apple for 20 years and, for all his fault-finding, he says he feels much more like a New Yorker than a Brit.
It has been reported that what took Osborne to Bangkok was the need for dental work. He says as much in his memoir, Bangkok Days (2009), so it's easy to understand how the story started, but this, he says, is an oversimplification. He began coming to Asia to research and write medical stories and just happened to need some dental work while he was here.
Bangkok has now been home for six years; long enough to learn the language and even begin to pronounce some English words with a Thai intonation. He credits some of his recent success to his 34-year-old Thai girlfriend, who he has been with for three years. Not because she reads or edits his books – she doesn't speak English, they converse in Thai – but for the calming influence of being with someone so pragmatic and sweet. (I meet her briefly at the end of the interview and she is indeed very calm and sweet.)
Another big draw in Bangkok is the rent.
"For [HK$11,000] you can have 2,000 square feet, three bedrooms with a balcony and a swimming pool. You can rejoin the middle class, live like an adult with storage space and civilised hardwood floors," he says. "Thank you very much."
He lives in an old building in Sukhumvit Soi 31, an area of the Thai capital that doesn't appeal to many foreigners.
"I feel like I'm the only person in the world writing in English when I'm surrounded by another language," he says.
And so it has been in Asia, far from the Western world and immersed in a foreign culture, that Osborne has produced his best work. He occasionally hangs out with some of the other English-speaking writers in the city but, for the most part, he says, he lives a quiet life, focusing on his writing. And he keeps clear of the bars.
"Bangkok attracts conmen and psychopaths, it really does," he says. "If you talk to those expat guys, they scare the s**t out of me. They are full of rage."
As for the city's notorious sex industry, he passes no judgment, because, he says, he has no involvement in it.
IN ONE OF OSBORNE'S many wonderful, sweeping generalisations, he says the reason so many of the books he reviews by big-name authors are terrible is because they publish too many and haven't learned the art of telling a story.
"Novels are not essays or ruminations or sentence worshipping. It's like a film that doesn't tell the story – you can't sit through it. Which is not to say you shouldn't be worshipful of plot, which is what literary writers are terrified of; they think it's vulgar, which is stupid – after all a story is not a trivial thing. A story has profound, moral significance if you've thought your story through."
And to this end he writes and rewrites, working to get the timing of a novel correct. Looking back on his restless years in New York, he now realises writing is a matter of learning to balance technique with emotion, he says. Part of that has probably come with age, but it's also about being immersed.
"I'm against novelists researching background because you can always tell; it doesn't have that instinctual feel. It feels contrived, like you read a lot of books and went there on a small trip. You can't fake it – it's got to be under your skin," he says.
The idea for Ballad of a Small Player was born in 2007, when The New Yorker magazine sent him to write a piece on Macau's casinos and gave Osborne US$2,000 to spend on the tables. He lost it all playing baccarat. The big names from Las Vegas were just starting to arrive and he met many of the main industry players, learning about algorithms and the odds against winning. While he was in Macau he noticed a Western gambler who wore a pinstriped suit, had a moustache tattooed onto his upper lip and all the staff referred to as "Lord".
"I never talked to him, but I thought about this guy. You know how you can see a person once and, for years, you can't figure out who they are, or what they are or the look of utter lostness," says Osborne. This man evolved into Small Player's central character, Lord Doyle.
The seed for Hunters in the Dark was planted years back, when Playboy magazine sent him to Asia to research a story about men who fake their own death. His key contact was a tough ex-detective who used to work for insurance firm AIG. The retired detective was short with him and said he'd only share what he knew if Osborne went to Manila and obtained a death certificate for himself. So Osborne did – a US$35 bribe to a Manila clerk was enough to do the trick.
"I have my death certificate on my wall in my office," says Osborne, with a wicked laugh. "I'm officially dead in the Philippines."
And with that our time is up. There is a car waiting to take him and his girlfriend to Kai Tak, to embark on a two-week cruise. He's hoping to get some writing done on the trip, and he has more cruising lined up afterwards, as a guest lecturer on a voyage organised by Lewis Lapham, a former editor of Harper's Magazine, from Casablanca to Lisbon.
The book he's writing now is set in Greece. He says he's had enough of Asia for the time being, although an idea for a novel set in Bangkok remains on the back burner.
It won't be about the Western men who wash up in the city, he says, "it'll be about normal people. And the Muslim world is very interesting to me. I lived in Turkey before Bangkok, so something set in Istanbul".
Then he and his girlfriend are gone and I'm left with the sense that Osborne will always be roaming, will always be on his way somewhere.
I'm relieved, too. In the last year I've read and thoroughly enjoyed his four novels. What a disaster it would have been if he'd turned out to be a terrible bore.
Original Link: SCMP