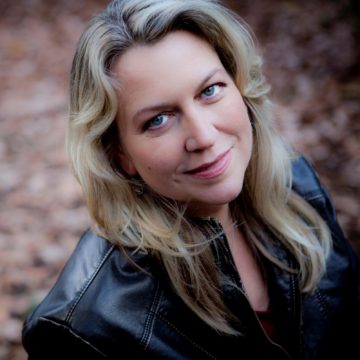 Cheryl Strayed on death, divorce and heroin
— November 2, 2018
Following the death of her mother and the break-up of her marriage, the author embarked on a life-changing 94-day solo hike through the Pacific Crest Trail at the age of 26

A home of our own I was born in Pennsylvania, in the USA, in 1968, in a town called Spangler. I have a younger brother and an older sister. When I was about five, my family moved to Minnesota and we lived in a town outside Minneapolis until I was 13. We were working class and poor.
My stepfather was a carpenter and he had an accident that laid him up for about a year. In the settlement he got a modest sum of US$12,000, which was equal to about a year's pay. My mom said this was our first and only chance to own our own home, and suggested we buy 40 acres (16 hectares) of land in northern Minnesota, which is what US$12,000 could get us.
We built our own house. We didn't have indoor plumbing or electricity or running water through many of those years. I complained about it because, like most teenagers, I wanted to be normal and live like everyone I saw on TV. For the record, we didn't have a TV, but I still gleaned that I was different. My mother would always say to me, "You will thank me for this experience later because it's character building."
Lost in sorrowEven though I was washing my hair in a pot heated over a wood stove, at school I tried to be the cute, pretty girl on the outside. I earned my own money from the time I was 13 and bought my own clothes. As soon as I left home to go to college at 17, I paid for everything.
I went to the University of Minnesota and did a double major in English and women's studies. Feminist activism and literature have always been my twin passions. I got married while I was at college. I was 19 and he was two years older.
My mom died in the spring break of my senior year – that was the loss that split my life in two. She died when she was 45 of lung cancer; she wasn't a smoker. Seven weeks after she found out she had cancer, she died. I didn't know how to live without her. I was an orphan – I didn't have a relation­ship with my father, and my stepfather wasn't able to conti­nue to be a surrogate father to me after my mom died, so I was trying to find my way in the world and I got lost in my sorrow.
What's in a name? After college I got a job as a feminist activist and was a political organiser for a non-profit called Women Against Military Madness. I was a good daughter and tried to keep my family together; I tried to replace my mom in my family's life and that doesn't work.
I was devastated by grief and I turned that sorrow into self-destruction. I went to Portland. It was very much in vogue among my age group to use heroin. When it was offered to me, I gleefully accepted. I never became addicted, but it led to dark and difficult things.
My husband and I were married almost seven years. It was a happy relationship, and I have no regrets even though we broke up and it was painful. We did the divorce ourselves. The paperwork required me to fill in the name I would use after my divorce. I didn't want to go back to the name of my father with whom I have no relationship. I cast about and came across Strayed. I think of "strayed" as a stray, someone who makes his or her own home in the world with indepen­dence, without a mother or father, and someone who perhaps doesn't follow the traditional path and rules. Strayed felt extremely real to me.
A rite of passage The time I was using heroin was the rock-bottom point of my life. A month after I finalised my divorce, I decided to move in the direction of something positive and hike the Pacific Crest Trail. It was the summer of 1995 and I was 26. I hiked 1,100 miles (1,770km) over 94 days. It was extraordinarily difficult, much harder and more soli­tary than I thought it would be. I didn't see another human for the first eight days. And physically it was punishing.
It was exactly what I needed – to test my strength and be empowered. It was a rite of passage, I needed to go through a crucible to figure out how to go on without my mom and how to accept some of the things about my life that I didn't want to accept. It was a spiritual journey because it pushed me to reveal the truest self within me. It was a life-changing journey.
Back on track I finished the trail an hour or so east of Portland. I had 20 cents to my name. A friend in Portland had a room for rent in her house and she said I could stay there until I could pay her back. I got a job waiting tables. It wasn't as if after the three-month hike everything was perfect, but I got myself back on track.
We often think of transformation as an extreme change, but I don't think that's what it is at all. I was always me. The transformation was me getting my bear­­ings again. All the time on the trail I was writing what would become my first book, Torch, and in Portland I continued writing.
Nine days after my hike I met the man who would become my (second) husband, Brian (Lindstrom, a docu­men­tary filmmaker), and we fell in love. So I feel like I walked to my husband. Our honeymoon was spent driving a huge U-Haul truck filled with our stuff across the country to Syracuse, in New York. We lived in Syracuse for a few years and I got my MFA in fiction writing at Syracuse University in 2002. It was there I really got to writing my manuscript and the year after that I finally completed it. Torch was published in the US in 2006.
Life, loss, struggle, discovery and triumph Torch is a novel about a family in which the mother dies young of cancer. I did what a lot of people do with their first book – you write from your life but then you deeply fictionalise. When I sold Torch I was pregnant with my first child and by the time it was published I had two children under the age of two. I went on a book tour with my husband and two toddlers.
Right after that I got to working on Wild: A Journey from Lost to Found, which was published in 2012 and hit No 1 on The New York Times bestseller list. It was thrilling not just to have Oprah Winfrey pick it for her book club, but to meet so many readers from all over the world who saw themselves in the book.
Tiny Beautiful Things, which is a collection of advice columns, was published four months after Wild. It's a collection of essays about life and loss and struggling and discovery and triumph. To have two books on the bestseller list was crazy.
I'm now working on my next book and I do a lot of public speaking. I'm very much looking forward to coming to Hong Kong for the first time. My husband and two children will join me after the Hong Kong International Literary Festival and we want to hike some of the trails.
Original Link: SCMP