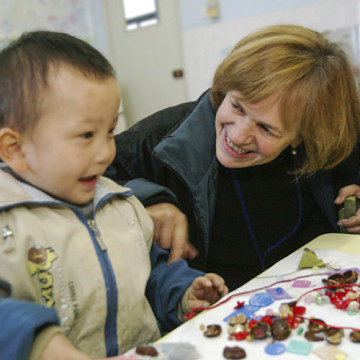 How a US filmmaker started a charity to improve the care of orphans in China
— May 27, 2014
The dire state of mainland orphanages 15 years ago spurred filmmaker Jenny Bowen into action. Her charity, Half the Sky, has been a huge success and now works with officials across the country

As the only Westerner working with the Chinese government to train children's welfare workers, Jenny Bowen has helped improve the lives of thousands of orphans across the mainland. That's a massive achievement, the result of much hard work over the past 15 years.
The journey began in 1996, when Bowen – a scriptwriter and filmmaker based in California – and her husband Richard read a Human Rights Watch report on the state of orphanages on the mainland.
The report came soon after a damning British documentary, The Dying Rooms, which uncovered systematic neglect of abandoned babies in the state-run orphanages and, most disturbing of all, "dark rooms" where children were left to die.
Bowen and her husband decided to do something – adopt. The couple had already raised two children of their own and the nest was empty. They eventually adopted two girls – Maya and Anya, who are now in their late teens. But their personal journey soon became far bigger than their own family.
"The very first visit to an orphanage was overwhelming, seeing so many children," Bowen says.
"The circumstances were very poor. There were children who were tied up, children who were languishing, there was all sorts of institutional behaviour; children picking at themselves and banging their heads on the wall and just running around throwing themselves at strangers because they had such a need to be held."
That sense of hopelessness was followed by anger, and the urge to gather up all the children and take them home. Then came the realisation that the conditions weren't poor because of a lack of love, but due to a lack of resources.
"The people assigned to those jobs had no training; they didn't know how to do what they had to do. And there were so many children and so few caregivers that there was really no way to do any more for the children than what was being done," says Bowen. "It was a system that was beyond broken, that really didn't exist."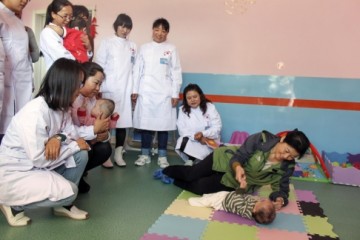 And that's when she knew what she had to do. In 1998, Bowen and a small group of adoptive parents founded Half the Sky with the goal of ensuring that every orphaned child has a caring adult in his or her life.
From the start, she had big plans and the goal was always to reach a point where the work could be handed over to the Chinese. That time has almost arrived, but back then, sensitivity was critical.
The international furore whipped up by The Dying Rooms, and then the Human Rights Watch report, had put orphanages on the agenda in the mainland, but also made it a very sensitive subject.
One of the most remarkable aspects of this story is how Bowen has navigated mainland bureaucracy and succeeded in forming partnerships with the Chinese government where many others have failed.
"I'm singularly unqualified to do what I've done in China, but there is something about being fearless and going to a place where you don't know what's going to happen. That's like filmmaking," says Bowen, who recently released her memoir about establishing the orphanages, titled Wish You Happy Forever.
She describes Westerners as "straight ahead people" and their approach in China as "moving in straight lines", noting that her success is the result of coming to the table without a preset way of thinking about how something should be achieved.
Half the Sky's Hong Kong office was set up in 2007 and focuses primarily on fundraising. Tim Huxley, CEO of Wah Kwong Maritime Transport Holdings, has been on the board of directors since 2010.
"I've dealt with the toughest chairmen and CEOs, and Jenny is the most persuasive. She will get anything," Huxley says.
Another recruit is Luciana Palmisano, the driving force behind the foundation's annual Hong Kong gala, which last year raised almost US$1 million.
"She is the most remarkable woman – so engaging," says Palmisano, who has been volunteering with the NGO since she arrived in Hong Kong three years ago.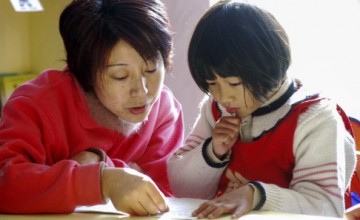 Bowen's commitment to helping orphaned children in China has led to friendships around the world. But perhaps the most important friendship is with Zhang Zhirong, whom she calls "ZZ".
Zhang is her mainland ally in smoothing the way through the bureaucratic process, and was important in getting Half the Sky off the ground.
"If you are going to attempt something like that, you must have a soul partner on the ground who finds the project important," says Bowen. "Zhang lost her parents when she was very young, so she understood the loss that the children had suffered. It became her march as well as mine," says Bowen.
The first orphanage was set up in 2000 and, within five years, Half the Sky had more than 20 orphanages. Today there are 51 in 23 municipalities and provinces.
That progress may seem fast, but it was a hard slog, and at each new site they had to start afresh, talking about the needs of children and pitching their programmes.
The breakthrough came in 2005, when Bowen noticed the first signs that the NGO was being taken seriously. That year, she was invited to speak at China's first national conference on the welfare of children living in state-run orphanages.
She saw a turnaround in attitude there: the recognition that children need more than food, shelter and medical care to thrive; they need to be nurtured and loved.
"In 2010, the central government came to us and said, 'We don't want to wait for you to do things at your own speed.' We had a strong partnership with the Ministry of Civil Affairs and had partnered with them on initiatives before, they said 'Let's find a way to do it together' and that became the Rainbow Programme," says Bowen.
Launched in 2011, the Rainbow Programme is a six-year initiative to train children's welfare workers across the country. The training is conducted by a Half the Sky staffer working alongside a government counterpart, and every province has a model children's centre for further seminars and workshops.
The most recent development – and the game changer – is the launch of sister organisation ChunHui Bo'Ai, which will be able to raise funds on the mainland to work with underprivileged children that other groups don't reach.
Cindy Lin, who left a senior position at PepsiCo to become ChunHui Bo'Ai CEO last month, will join Bowen in Hong Kong this week for some awareness-raising events.
"The sister organisation will go beyond the welfare institutions to help children in shelters. It will help all children living in alternative care," says Bowen.
Huxley says it took a lot of work to reach the point where funds could be raised on the mainland, and admires Bowen for the way she has now handed over the reins to them.
Carmen Lau Ka-man, director of development in the Hong Kong office, says it is Bowen's respect for the Chinese that has enabled Half the Sky to be so successful.
"Jenny offers herself and Half the Sky as a partner, rather than telling them what to do. From day one, her dream was not just to have nannies go in [to the orphanages], but to have China be able to take care of its orphans," says Lau.
Equity trader Harry De Pree is among about 30 "rainmakers" in Hong Kong, active volunteers who get the word out about Half the Sky to raise funds.
De Pree began with a sponsored triathlon in Phuket in 2007, and has continued to organise sporting events. He has visited a number of the centres on the mainland, and notes that the demographic in the orphanages has changed.
"Fifteen years ago, it was abandoned healthy girls. Today the majority of children – boys and girls – are handicapped. Some of these children are traumatised when they arrive, but the Half the Sky programmes to rehabilitate them are incredible," he says.
Bowen is well aware there is still a long way to go in improving orphans' welfare in China. But with a good framework in place for reform, a solid relationship with the government, and Half the Sky running training sessions alongside its sister organisation, she is "totally hopeful" about progress.
But does this mean she's going to take it easy? Not likely. She's now setting her sights beyond China and going to places where children are most at risk, living in war zones, places of extreme poverty or at risk from trafficking.
"I keep coming back to this depth, this soulfulness that I see in these kids who have lost it all, who are living in the worst of circumstances. If we get in there and nurture a generation and see what they become – I think they may be part of the solution," says Bowen.
Meet Jenny Bowen, May 28, 5.30pm-7pm, Kelly & Walsh, shop 204, Pacific Place; May 29, 6.30pm, Asia Society HK$200 (members), HK$250 (non-members)
Original Link: SCMP