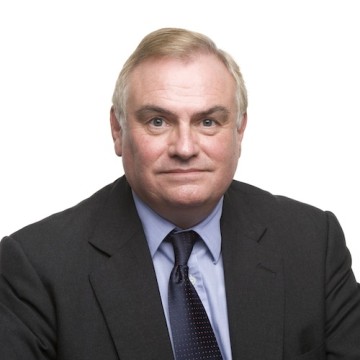 Hachette UK's Tim Hely Hutchinson Sees Big Potential In Asia
— July 2, 2013
HONG KONG: Asia is an important growth market for Britain's second-largest publisher, Hachette UK. Sales in the region have grown faster than European markets and Group Chief Executive Officer Tim Hely Hutchinson sees no sign of slowing.

"We've got a greater awareness that Britain is a relatively small and static market and that increasingly we should be publishing more for the world rather than for Britain," said Hely Hutchinson, who was in Hong Kong for the first time to visit Hachette's base for Southeast Asian.
Hachette's Hong Kong office opened last September and is overseen by Sales and Marketing Manager Paul Kenny, who was with Pan Macmillan Asia before joining Hachette last year.
Hely Hutchinson described the Hong Kong office as being more than a functional sales office — it symbolises Hachette's commitment to publishing beyond Britain and serves as a catalyst to that end: "I wanted to have a specific base here to co-ordinate and maximize the sales and publicity in Asian markets and also to tell us what's going on — to draw writers and trends to our attention."
Nonfiction Dominates Sales
Non-fiction titles dominate the Asian market with books on business and self-improvement accounting for a huge share in sales. "In Asia it's a more businessy, aspirational market. Less literary and more to do with getting on in life," says Hely Hutchinson.
Walter Isaacson's Steve Jobs: The Exclusive Biography — published by Hachette — was phenomenally successful, with the highest sales figures logged in Asia. "That opened people's eyes to what could be done in Asia because the Asian sales were actually higher than the British sales and people then realised that this wasn't just a market that head honchos talk about, it's real if you get the book right."
The children's market is also strong across the region and particularly in China, especially books for 8-11-year-olds. "Our representative here is Paul Kenny — part of his role is to look out for authors in Asia. Our approach to looking for good authors is worldwide, we don't have any set or preferred weighting — we'll publish talent wherever it comes," says Hely Hutchinson.
The big book markets in Asia — Japan, Singapore, Hong Kong and Malaysia — are of key concern, but Hely Hutchinson says they are also looking at markets which have not traditionally accounted for much in sales.
Pursuing Myanmar, Cambodia, Vietnam "We are working to get Myanmar — there's tourism there, there are more expats going to live and work there. And we're also looking at Cambodia and Vietnam — all these markets that have been small we are gradually opening up and getting through there.
And of course the big markets change all the time and have to be nurtured."
He had a packed schedule during his three-day visit, but managed to make time to visit Hong Kong's biggest bookstore, Eslite in Causeway Bay, and had nothing but praise for the fashionable Taiwanese store.
"We went on Wednesday afternoon and it was really buzzing. I asked the manager what it was like at other times and he said it's very busy after work and packed on Saturdays. People are loving the concept — it's a golden example to other booksellers about what print bookselling could be like in the digital age."
Eslite's success has been in creating comfortable yet chic retail spaces and gauging the balance between selling specialty tea and designer-led stationary as well as books, many of which are curated by staff.
"Every airport has a range of the bestsellers and the homepage when you go to an online bookseller is going to be full of bestsellers, so what the manager is trying to do there is that they stock the Dan Browns and the Stephen Kings, but in addition, each section is led by someone who loves books and is specialized in their own area. They are trying to draw other books to your attention and you're not going to know how fabulous those books are unless you go there," says Hely Hutchinson.
Original Link: Publishing Perspectives