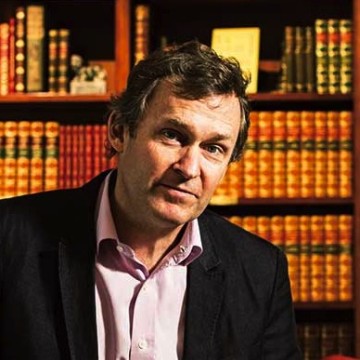 Pages of history
— April 1, 2014
Fulfilling a specialist niche, Hong Kong's rare and antiquarian bookshops focus on the passion for collecting rather than profit

Lorence Johnston sits in a deep leather armchair at 6 Chancery Lane. The room has the look and feel of a London gentlemen's club – the curtains are heavy, the walls lined with beautifully bound books and Georges Bizet is on the sound system. All that's missing is a log fire, except this is Hong Kong and no private club – it's one of the city's few rare and antiquarian bookshops.
Lok Man Rare Books stocks a wide range of rare volumes and first editions with a focus on litera- ture, travel, history, sport and hobbies. Inspired by a passion for books, Johnston established the shop in 2006 and set out to create a very personal experience for customers. His customer base includes a select group of serious collectors and he enjoys the chal- lenge of sourcing a particular book, calling on his network of contacts and dealers around the world.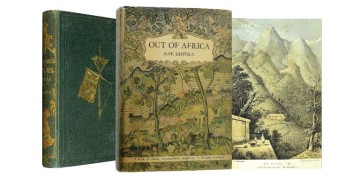 But not all his customers are great book lovers. Many come in search of a special present and this is his forte. "I love helping people find gifts – I ask what they enjoy doing, if they have a shared passion," he says. "Any business, when you look after people properly, becomes personal."
And for customers who don't have the time to come to the shop, he will pay a private visit with a selection of books, carrying them in a large leather bag, much like an old-fashioned doctor's case. A book doctor? "Yes," he says, laughing. "Doctor Johnston."
Perhaps it's his background in finance, but John- ston is wary when it comes to the subject of whether or not books are a good investment. His business card carries the line, "books of personal value", and he prefers to see them as a personal investment rather than a financial one. But he does note that they seem to slowly and steadily increase in finan- cial value. "It's a long-term investment that in many cases is generational," he says. "You keep the books for a long period of time and pass them on to your children and grandchildren."
There are just four shops specialising in non- Chinese language rare and antiquarian books in Hong Kong and each has its own niche. Less than
a 10-minute stroll from Lok Man is Indosiam Rare Books, run by Yves Azemar. "We're not really in com- petition," says the genial Frenchman. "We each have our own customers and will send customers to each other – that's not so common in other businesses."
Azemar focuses on the book that he likes – rare and antiquarian books on China, Indochina and the Far East. Most are in French and they are largely academic and non-fiction books. He makes several trips a year to France and Belgium where he buys them from bookshops and book fairs. His greatest disappointment, he says, is that the annual Hong Kong International Antiquarian Book Fair that began in 2007 was cancelled after 2011. "Before the book fair I had no [Mainland] Chinese customers at all, but after the first book fair we started to see a China market develop," he says.
The first big trend he noticed in the China market was the push for books on Chinese art. Azemar's books on porcelain and art were snapped up by Chinese buyers and sold on to art galleries and museums on the mainland. Prices for these books quickly soared. Next came a demand for translations of Chinese literature and philosophy by 19th-century French Sinologists. "There is a market for rare books in China and it is growing day by day," he says.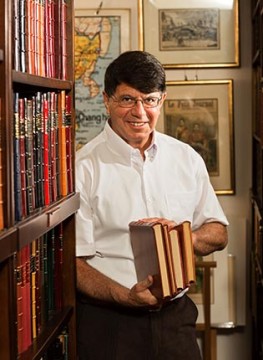 But despite the increasing value of some genres, Azemar insists that books should be bought for the pleasure they can afford rather than on the expecta- tion of great financial gain. "Buy a book as a happi- ness investment," he says. "Many of my customers will stand in front of their bookshelves like me and just enjoy looking at their books."
Christopher Bailey, founder and Director of Picture This Gallery, which sells vintage posters, fine-art photography, antique maps and prints, as well as antiquarian and collectible books, also notes the trend for books on porcelain. "Ten years ago they would sit on the bottom shelf and never move. Now, the subject has really taken off. Anything China-related is in vogue," says Bailey, who set up the business with his wife in 2001 and began
selling books seven years ago when he realised there was a market.
Picture This Gallery stocks about 2,000 titles and focuses on the history and travel of Hong Kong and the Far East as well as general literature and poetry of the 20th century. "We have a small group of very keen book collectors – you couldn't make it a busi- ness without the serious collectors – and then lots of one-off buyers who are buying gifts for birthdays, Valentine's, leaving gifts and retirement presents," says Bailey.
Antiquarian and rare books can cost anything from a few hundred dollars to HK$200,000 or more and those signed by the author can increase their value, as do dedications. The dust jacket is espe- cially important and if it's in good condition it can amount to 90 percent of the value of the book.
"Take Casino Royale," says Bailey. "Without the wrapper it would be worth £200 to £300 [about HK$2,500 to HK$3,800], but with it it's worth £20,000 to £30,000."
Bailey keeps his personal library in a glass case covered with clear UV film to prevent sun damage to the spines. He runs a dehumidifier through the summer months to prevent damage from the damp.
"If you want books to keep their value, you must be sure to keep them in good condition," says Jonathan Wattis who, with his wife Vicky, owns and runs Wattis Fine Art, which is best known for its photographs of Hong Kong, China and Southeast Asia, but also sells books.
Original Link: Discovery
[PDF url=http://www.hongkongkate.com/wp-content/uploads/2014/07/051-Discovery-Book-stores1.pdf]