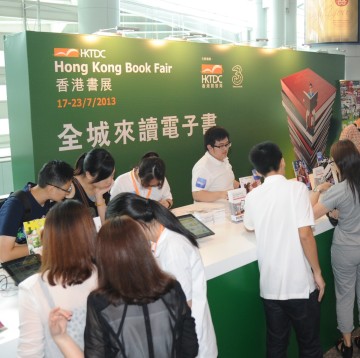 Hong Kong Book Fair gets professional, goes global
— July 7, 2013
The Hong Kong Book Fair, now in its 25th year, remains firmly focused on the Chinese-language titles, but has begun to add professional elements and global authors.

The Hong Kong Book Fair celebrates its 25 anniversary this year and organizers hope that it will finally see one million visitors pass through the doors.
The fair, from July 16-22, will be staged at the Hong Kong Convention And Exhibition Centre in Wan Chai, but the event will be felt across the city in a month-long series of events and activities known as "Cultural July."
Last year's attendance came in at 980,000, just short of the magic million, and organizers blamed the torrential rains which prompted the raising of the Black Rainstorm warning for keeping some book buyers away.
This fair is unlike the Frankfurt Book Fair or the London Book Fair in that its primary focus is not trade, but consumers. The first fair was held in 1990 when the Hong Kong Convention and Exhibition Centre was just two years old. It is one of three consumer shows — along with an annual Food Expo and Education and Career Expo — that the Hong Kong Trade Development Council runs during the off-peak trade season.
"Most trade buyers come to Asia for sourcing from January to May. They skip the hot summer, particularly the European buyers, so July and August are the slack season," says Benjamin Chau, Deputy Executive Director Hong Kong Trade Development Council (TDC) who heads the fair.
You can't fault the fair when it comes to meeting its stated mission — selling books. David Parrish, Random House Group Sales & Marketing Director, East Asia, says his customers tell him that the people who go to the fair aren't the sort of buyers who visit bookshops regularly.
"A lot of people go there and buy their books and magazines once a year. It's a good chance to get to people who you wouldn't see on a regular basis," says Parrish, adding that the English-language books, mostly classics and general fiction authors, are regular books and traders offloading excess stock.
There is no doubt that the fair is popular — the attendance figures translate to about 1:8 Hong Kongers attending the fair with a further 11% of those coming from overseas, mostly from mainland China. Chau has also spotted a growing interest from public libraries around the world.
"For the last few editions, we do notice librarians coming from mainland China and cities in the US, Canada and Australia with comparatively bigger Chinese populations. Their public libraries need to have a certain quantity of Chinese books," says Chau.
Tentative Introduction of Professional Elements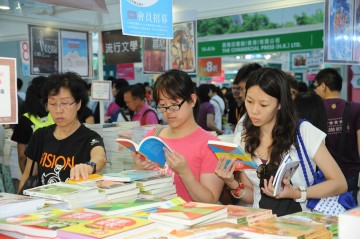 But not everyone is content with the current format for the fair. Harrison Kelly, founder of Arts and literary PR agency Flatcap, wishes that the trade element would be enhanced.
"The fair is kind of an anomaly. For me, a book fair is where people come to buy and sell rights and there is more engagement, authors coming and introducing people to writing," says Kelly.
The fair has started to move in that direction, although very tentatively. There is now a small section within the fair dedicated to copyright exchange and is listed on the English version of the website as "Copyright Corner." But Hong Kong's most established literary agent Marysia Juszczakiewicz, founder of Peony Literary Agency, hadn't heard of it.
"There is a place on the website promoting international copyright exchange and we already have about 17,000 titles uploaded, these are publishers who are looking for partners to sell book rights. This is a very initial attempt, it's been going about two years," says Chau. Freedom to Publish
Chinese-language Writers Featured
Since 2005, the fair has moved towards promoting cultural events as well as serving as a book bazaar. To this end, it has sponsored authors to attend. Last year Chinese dissident writer Chan Koonchung was the "Author of the Year" and Erica Jong and Jung Chang joined a panel with entrepreneur David Tang as moderator. Many of the big names have come thanks to the very well connected Tang — the founder of Shanghai Tang — and this year his absence is conspicuous.
Organisers have invited 300 authors to attend, most of them Chinese-language writers. The Author of the Year is Hong Kong writer Dung Kai Cheung coming from the mainland are Jiang Fang-zhou, Jing Yu-cheng and Mai Tian-shu and over from Taiwan will be Bai Xianyong, Cai Ming-liang and Chen Xue.
The international authors include Susan Barker, whose new book The Incarnations was released earlier this month; Lawrence Osborne who recently released his second novel, Losing it all and Barbara Demick who is best known for the book on North Korea, Nothing to Envy.
Kelly was less than impressed with the lineup of international authors: "They could have done better. People do want to come to Hong Kong, it's an exciting place, but you can't expect them to come if there isn't a real package."
The TDC funds the fair and Chau says it isn't always able to break even, especially since it began inviting overseas authors.
"In certain years we will go into red, but it doesn't matter because the show can bring a lot of social benefits to Hong Kong. Starting from 2012 we not only run this show, in the last week of June until the end of July we conduct what we call Cultural July," says Chau.
This year more than 170 offsite events have been organized as part of Cultural July, up on 120 last year and 50 in the first year. But Chau says the aim isn't to keep growing Cultural July in terms of number of events. The focus will now be on quality rather than quantity – and that goes for the book fair itself.
"We hope to see more renowned writers, Nobel writers, important books and authors using choosing to launch their book in Hong Kong, at least for the Asian launch," says Chau.
Original Link: Publishing Perspectives