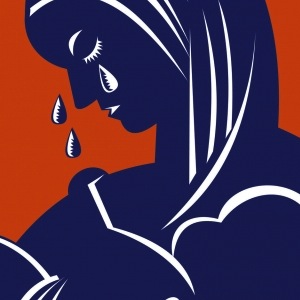 Birth of the blues
— January 20, 2014
Postnatal depression is much more common than many people may realise and can also affect men

For anyone who thinks postnatal depression is due to hormones and only affects women, listen up. While hormones and genetics definitely come into play, social factors and environmental stress are equally important. Men suffer from the condition, too.
It's not unusual for women to feel teary and emotional in the first week after delivery, but if the "baby blues" last more than two weeks, then it's time to seek professional help – the sooner, the better.
Postnatal depression is much more common than many people realise; 10 to 15 per cent of women worldwide are affected, though the severity may range from minor symptoms to psychotic depression. About 5 per cent of Hong Kong Chinese fathers are affected, according to Dr Dominic Lee Tak-shing's study published in the Hong Kong Medical Journal in 2011.
It's a form of clinical depression that's usually associated with symptoms such as sleep disturbance, loss of appetite, poor concentration, fatigue and suicidal thoughts, says Dr Vivian Ngai Fei-wan, assistant professor at University of Hong Kong's School of Nursing.
"Research suggests that environmental factors can have a severe impact, such as a poor marital relationship, a lack of social support and stress in taking care of the child and the household," says Ngai, adding that a history of depression is a confirmed risk factor.
Research evidence shows that symptoms of postnatal depression decrease over time – but depression remains a long-term problem for 30 per cent to 50 per cent of affected women, according to a report in the Harvard Review of Psychiatry published last week. These findings from researchers at the University of Leuven, Belgium, were based on review of studies on postnatal depression from 1985 to 2012.
Some of the reviewed research suggested that younger mothers, those with lower income and minority women were at higher risk of chronic postnatal depression. There was more consistent evidence for other "contextual" risk factors, including lower quality of the partner relationship, a history of depression or sexual abuse in the mother, higher parental stress and personality factors.
Symptoms don't necessarily wait until after delivery to appear; they may be apparent in the third trimester of pregnancy, says Lee, a specialist in psychiatry in private practice and one of Hong Kong's leading experts on the subject.
Expectant women with prenatally diagnosed fear of childbirth and no history of depression are at an approximately three times higher risk of postnatal depression, according to a study of more than 500,000 mothers in Finland. Other risk factors included Caesarean section, pre-term birth and major congenital anomaly. The study was published earlier this month in the journal BMJ Open.
As paternal involvement in childcare becomes more common, fathers are affected by postnatal depression too. In almost all cases, the mother is also affected, says Lee, who published his first paper on the condition in 1996 and has done considerable research since.
"Quite a lot of men suffer from postnatal depression," says Lee, formerly a professor in the department of psychiatry at Chinese University. "They also suffer sleep deprivation, financial stress and the arrival of a baby adds strain on any pre-existing marital tension."
In 1999, in a paper in the Hong Kong Medical Journal, Lee called for systematic screening for postnatal depression. That call was answered in 2005 when the government began universal screening in the territory. All women who go for a six-week postnatal follow-up are now screened.
"It's a self-report questionnaire consisting of 10 items. If the mother has a high score, then she will have an interview for a doctor to make a diagnosis," says Ngai.
Also on hand at the Health Department's Maternity and Child Health Centres across the city are a team of doctors, including psychiatrists and nurses, to look after women identified as possibly suffering from postnatal depression.
The screening is critical. Lee says that without it, only one in 10 affected women will seek psychiatric services, and usually only after the condition has persisted for some time.
"The mothers might go one, three, sometimes five years after delivery. By then, the depression is usually quite severe and there are often complications in the marriage and behavioural problems with the children, so it's much more difficult to treat," says Lee.
Left untreated, some women recover spontaneously. But in one of Lee's studies, he found that half of untreated local women were still depressed after two years. Lee says this can be attributed to the stresses of life in Hong Kong, not least of all financial and work pressures.
"In Hong Kong, women are expected to return to work and 'normal functioning' when they've finished maternity leave, usually six to eight weeks after delivery. Few employers make allowances for mothers who have recently delivered, and we even see mothers being given laptops so they can resume working at home two to three weeks after delivery. It's very tough," says Lee.
Also culturally specific to Hong Kong and Chinese families is what's known as the "mother-in-law factor". The practice of pei yue (literally, "accompanying month") mandates a designated elder female kin, usually the woman's mother or mother-in-law. While this practice has been shown to help reduce postnatal depression, if the woman doesn't have a good relationship with her mother-in-law it can add to tensions.
Men are also affected by the "mother-in-law factor" and often caught between the role of a godson and loving husband. Lee suggests that societal values have changed and the practice of pei yue may lead to conflict rather than support.
The consequences of postnatal depression may be severe. It may affect the mother's abilities and skills to engage in delicate interaction with the child, and thus impair the development of an attachment relationship – possibly affecting the child's development and well-being.
"Depressed mothers are more irritable. When the kids are naughty, she is more likely to lose her temper and then be regretful. For children caught between emotional extremes, it can lead to behavioural problems," says Lee.
In October in Washington, a 34-year-old woman suffering from postnatal depression was shot dead by police after allegedly attempting to ram the White House gates and leading authorities on a high-speed chase through the city.
Lee suggests the incident and others such as mother-baby suicides are more likely to be cases of postnatal psychosis, a more serious psychotic depression.
"About 15 per cent of women with postnatal depression may have fleeting suicidal thoughts, but they feel they have an obligation to take care of the kids and are unlikely to harm themselves," he says.
The danger, says Lee, is when a depressed mother loses emotional control. If her baby cries non-stop, she may shake it or try to stop it crying by putting a pillow over its head.
For both women and men, prompt treatment is the solution. Well managed, postnatal depression can be resolved within three to four months with a combination of antidepressant medications and therapy or support. The first port of call is the family doctor or the Maternal and Child Health Centre, where referrals will be made depending on the severity of the case.
While screening and greater awareness is helping to ensure more women are diagnosed early, it is more difficult to reach out to affected men.
"Men may not recognise they are depressed. Even if they realise they are stressed, they refuse to accept that it's a mood disorder," says Lee. "It's difficult to engage men and convince them it's not a problem of weakness of character, and that both men and women can be depressed after delivery."
Original Link: SCMP