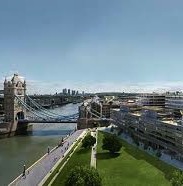 Top of the heap
— January 1, 2015
The highest floor of a prestigious building in one of the world's top cities is the ultimate discretionary purchase. The Peak looks at some of the planet's very posh penthouses with the best views, the most deluxe finishes and facilities, and the highest potential investment returns.
LONDON
The prime Central London property market rebounded quickly after the 2008 crash and since then, prices have grown almost 30 per cent, according to Britain's Office for National Statistics.
"We are saying that London has probably reached the top. That doesn't mean it's going to crash, but we don't expect it to grow much more in the near future," says Barnes.
One Tower Bridge, a new South Bank development in the heart of the city, has recently gone on the market and although it won't be completed until early 2017, it has proved popular. Situated at the foot of Tower Bridge, across from the Tower of London, the riverside building promises a five-star lifestyle – think 24-hour concierge service provided by Harrods Estates, and access to the private gym, spa and swimming pool.
The icing on top of this prestigious development is the Prospero Penthouse at Sandringham House. This is penthouse living at its finest – the 3,600-square-foot apartment will occupy the 10th and 11th floors and will boast one of the largest roof terraces in London, plus a wraparound terrace on the 10th floor with 360-degree views of the city.
Priced at a £15 million (HK$183 million), that apartment will boast interior design by Darling Associates, including parquet flooring, oak timber doors, under- floor heating and a gel fireplace. The roof terrace – with its own outdoor kitchen, built-in barbecues and spa area – will be great for entertaining in the long English summers.
NEW YORK
The Big Apple's property market fell further than other prime markets and stayed down longer, so it still has some way to go before it reaches its peak, experts say. They also agree that if you have cash to burn, a penthouse in New York is a coveted investment right now – if you can get into the market.
"Prime properties in New York are trading above their former peak, but they haven't grown as much as London. We'd expect to see more growth here," says Barnes.
The big issue for non-US buyers eyeing New York is that 70 per cent of the market is made of co-operatives, which means the building is jointly owned and controlled by the occupants, effectively restricting overseas buyers. New developments are much more accessible for foreign investors and there is one on the market now that is seriously hot – the 4,550-square-foot penthouse at 165 Charles Street.
Designed by architect Richard Meier, the West Village duplex has knockout views over the city and Hudson River from almost all four bedrooms and four bathrooms. Ideal for entertaining, the grand entry gallery leads to a huge living room with a 21-foot ceiling and panoramic views over the city. On the market for the first time since 2005, this penthouse has an asking price of US$40 million.
"There are very few luxury penthouse properties of this unique quality on the market in the prime downtown areas such as West Village. It's an iconic penthouse and a wise investment for a wealthy buyer who wants to own a rare property – it makes for a sound investment," says Kathy Coumou, senior vice-president at Christie's International Real Estate.
SYDNEY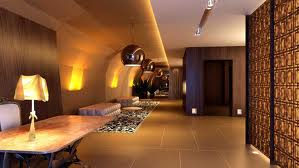 The New South Wales capital has been a robust market since 2008, thanks to the consistently growing Australian economy. A little like the New York property market, it's a good one for high net worth buyers to get into, but restrictions can be challenging for foreign investors.
"Australia has very restrictive rules about overseas buyers, so it's effectively a domestic market even though it's an international city. It has all the things Asian buyers like – a safe-haven jurisdiction, rule of law and so forth. But its potential is beginning to be realised and you can see the Golden Visa system starting to take effect," Barnes says.
The most stunning property on the Sydney market right now has to be the recently completed Eliza penthouse in Elizabeth Street. The four-bedroom, 499-square-metre home is spread over three floors and has its own internal passenger lift. The ceilings are 3.8 metres high – 50 per cent more than those for the standard Sydney apartment – to accommodate the large-scale pieces of art that the sort of person who will own this home will buy.
This is a penthouse with serious "wow" factor. A sweeping 10-metre high marble staircase links each floor, the master bedroom has its own private study and walk-in dressing room and all the fittings and furnishings are top of the range – think honed travertine and fixtures from Gessi Rettangolo and Villeroy & Boch.
The lucky penthouse owner will be able to entertain in absolute style. The rooftop has been landscaped and incorporates an outdoor kitchen and transparent infinity-edge swimming pool against the Sydney skyline. It's on the market for A$15 million (HK$96 million).
SINGAPORE
The Lion City government brought in stricter lending criteria and higher taxes for foreign buyers to ease a property bubble that began in 2009. That led to an estimated 8 per cent drop in transactions in the third quarter of 2014 over the same period in 2011, according to the Urban Redevelopment Authority.
The high-end market is below its 2008 peak, but realtors believe that smart investors with confidence in Singapore's prospects and a medium- to long- term perspective will be attracted by new, well-priced launches.
One such development is the Soleil@Sinaran. While it's only a three-minute drive from the bustling downtown shopping mecca of Orchard Road, it is tucked away on a quiet road. The facilities include a lap pool, spa, gym, tennis courts and playground – everything you'd expect of a five-star resort. And if you're lucky enough to get the 35th-floor penthouse, you will be in for a seven-star treat.
If you can put down the S$10.8 million (HK$63.8 million), you can move in right away and claim your four-bedroom, 4,715-square- foot top-floor apartment. It comes fully furnished – from the sofas to the curtains – and all are tastefully chosen in a muted, earthy palate that will make for a comfortable, luxurious living environment. For privacy, there is a dedicated lift for the penthouse. For relaxation, there is a spa pool. And to remind residents where they are, the unit offers 360-degree city views.
HONG KONG
The introduction of a 15 per cent property tax for non-Hong Kong permanent residents last year succeeded in cooling the market. After a small dip in prices in 2014 at the luxury end, Barnes of Savills believes prices will soon stabilise.
Mount Parker Residences, located on a hilltop in Quarry Bay, east of Hong Kong's business district, is a development by Swire Properties. It boasts two penthouses, the largest of which is 3,504 square feet and offered by way of tender at a guide price of HK$180 million. The five-bedroom top-floor flat has its own private lift lobby and entrance.
The development was designed by the Florida-based architectural firm Arquitectonica, known for its sophisticated surface patterning and facade articulation, giving buildings a hi-tech look. It has worked its magic on Mount Parker Residences, creating a striking curved facade. The firm also designed the penthouse interiors, using a spacious layout with gentle curves to complement the building's design. A generous wood- deck terrace leads out from the dining room and offers spectacular views over Victoria Harbour.
The owner will have access to the three-level clubhouse that includes a playroom and outside play area for children and an outdoor heated pool.
BANGKOK
Political turmoil and an economic slowdown had a negative impact on the Thai capital's overall property sector, but it had a minimal effect on the high-end condominium market, particularly luxury and well-located projects, according to CB Richard Ellis, the largest real estate agency in the country.
Ngamjai Jearrajarat, associate director for CBRE (Thailand) marketing and communications, says probably the hottest penthouse currently on the market is the jewel in the crown of the Sukhothai Residences, a 41-storey branded condominium managed by the high-end Sukhothai Hotel Management and located in the heart of the central business district.
The Sukhothai Hotel is one of Bangkok's finest hotels and this penthouse will suit anyone who has stayed at the hotel and enjoyed it. Kerry Hill and Ed Tuttle, who designed the hotel in the 1990s, teamed up again to work on the residences. The development's facilities include a 100-metre pool complex, a landscaped garden, tennis court, gym and yoga studio. Masters of resort-style living, Hill and Tuttle have again done an excellent job of bringing that sensibility to all four of the penthouse apartments.
The best of these is an 11,870-square-foot apartment and it's on the market for around 488 million baht (HK$115 million). The Sukhothai Sky Villa features its own 18-metre swimming pool in a spacious garden patio. As with all top-floor luxury apartments, this property has spectacular views over the city from most of the rooms.
SHANGHAI
China's commercial capital is largely deemed a domestic market as it doesn't involve many international investors. It has seen a lot of interest from Chinese buyers from outside the city and is a strong market, but may have already peaked, according to Barnes.
"It has been showing small falls recently and we expect it not to grow for a while now. There is a big gap between what's happened to capital growth and rental growth," she explains.
A development that is generating a lot of buzz is the Hong Kong-based Sun Hung Kai
Properties' wholly owned Shanghai Arch. On the banks of the Huangpu River, it boasts views of the Bund and a 64,000-square-foot clubhouse set in landscaped terraces. Chandu Chhada, who conceptualised Four Seasons in New York, is behind the design, so the development has the look and feel of an uber-luxury hotel.
Made up of 13 residential towers and 23 riverside townhouses in a fan-shaped format, the development has eight 3,700-square-foot penthouses. The luxurious four-bedroom apartments boast wraparound terraces that extend out from the living area, making for a glamorous setting for entertaining. But you have to go to the roof for the absolute highlight – each has a private heated, underwater-lit infinity pool that is long enough for some serious laps. Now that is penthouse posh.
[PDF url=http://www.hongkongkate.com/wp-content/uploads/2015/01/291-Peak-Penthouses.pdf]