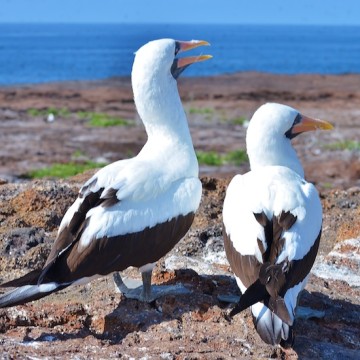 A natural selection
— April 9, 2015
Kate Whitehead follows the trail of Charles Darwin to Galápagos and discovers some rather friendly residents

The Galápagos isn't the kind of place you go to admire from a distance. You have to get right up close, immerse yourself in it, stick your head under the water and really
experience it. And there's plenty to see when you do. This remote archipelago, 600 miles off the Ecuadorian coast, is probably the most famous wildlife-watching destination on the planet. When
Charles Darwin arrived 180 years ago he was so struck by what he saw that it inspired his ground-breaking theory of natural selection.
There are 13 volcanic islands that make up what Darwin called his 'Enchanted Isles', as well as six smaller ones and more than 100 islets. And each has its own unique landscape and wildlife. This is a critical point, as it's the basis of his theory of evolution. One island is best known for its birds, another for its prehistoric- looking marine iguanas and yet another for the time-worn giant tortoises that give the islands their name. (An old Spanish word for tortoise is galapago).
But the best part about all this wildlife watching is that the birds and animals don't take a blind bit of notice of you. Unlike almost everywhere else in the world, these creatures haven't learned to be fearful of humans. What's more, the absence of natural predators on most of the islands means that they live and breed without restriction.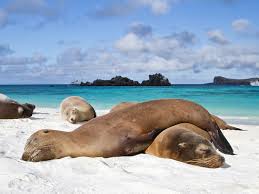 Walk right up to a pair of blue-footed boobies to observe their amusing courtship ritual and they barely give you a cursory glance. And it's worth watching as these delightful birds offer each other small gifts – a feather, a twig – during their animated mating dance. This is what it must be like to be a wildlife documentary filmmaker, but without all the hours of waiting for something to happen, because on the Galápagos there is always something going on. In less than
a minute of stepping on to one of the stark islands – all lava rock, cactus and lush green highlands
in the distance – we find ourselves face-to-face with one of these fearless creatures.
And even more exciting is the snorkelling. Dipping our heads under the water, we see sea lions, penguins (the smallest in the world), manta rays and plenty of tropical fish.
We've also been reliably informed that the sharks are friendly in
the Galápagos, but our stomachs turn on our first close encounter with a dozen white-tipped reef sharks. We've barely spotted their unmistakable silhouettes as they swim eight feet below us on the sandy ocean floor when the whole school takes off, a flash of their white-tipped fins as they skim past. After that, we're dead set on finding the curious-looking hammerhead sharks that prefer deeper water.
The Galápagos naturalists ask visitors to keep a two-metre distance from the wildlife, but since the animals don't know the rule this can sometimes mean shifting out of the way. Two sea lions cavorting in the shallows seem completely unconcerned by the people nearby and lumber out of the sea, moaning as they flop on the sand, totally relaxed. Lying on the beach, we hear the swish of a marine iguana as it drags its tail over the soft sand. And, as we wade into the sea, a Galápagos
Keeping a distance from the wildlife can mean shifting out of the way penguin dives off a rock and darts past us, before circling back for another look.
As you can't stay on the islands after 6pm and there's a lot to get around and see, the best way of visiting is to book a cabin on a live- aboard boat. Metropolitan Touring pioneered travel to the Galápagos in the 1960s and has three ships that tour the Galápagos: the Santa
Cruz, La Pinta and Isabella II. They vary in size, with accommodation to fit most budgets and packed itineraries with activities from snorkelling to hiking. In the evening the ships up-anchor and sail to another location so that each day brings a new island to explore.
If you want a day or two to get back your land legs – or if you're like us and you simply can't face leaving the Galápagos – the Finch Bay Eco Hotel on the south side of Santa Cruz is an idyllic retreat. A short kayak away is a sheltered cove where blue-footed boobies nest in the cliffs and you can often catch a glimpse of a turtle as it surfaces briefly for air. the Galápagos Darwin saw 180 years ago. It's a chance to truly experience nature and maybe ponder on your own theories of evolution. But for wildlife fans, this is certainly one spot that should be a natural selection.
Quito
You can't travel all the way to the Galápagos without at least staying overnight in Quito. A few days in the Ecuadorian capital is recommended as it will give you enough time to check out the Unesco-protected historic centre, visit the site that marks the equator (there are two, make sure you get
the right one!) and take an overnight trip into the rainforest to find the source of cocoa.
Where to stay
Finch Bay Eco Hotel, Santa Cruz
This tranquil retreat set back from the beach is Galápagos hot property. There are just 21 garden-view rooms and six ocean-view suites, making this a truly boutique property. The hotel has a couple of boats for snorkelling excursions, or you can just chill by the pool and watch a cheeky pelican try and take a sneaky dip. finchbayhotel.com. Rooms from $2,790 per night.
The Santa Cruz, Galápagos
This three-deck cruise ship can take up to 90 guests in standard cabins up to a new deluxe level, Darwin Elite. All meals are served on board, including snacks. Keep an eye out for the tanned and smooth captain. He doesn't just sail the ship, look like an Ecuadorian Richard Gere and write his own songs – he'll also sing them if you're lucky. metropolitan-touring.com. From $20,300 for a four-night cruise.
Casa Gangotena Hotel, Quito
Located in the historic centre overlooking the Plaza San Francisco, this 1920s Renaissance-inspired mansion was transformed into a 31- room hotel three years ago. The understated opulence, courtyard garden and deep soaking tub in the bathroom all add up to make this the most romantic place to stay in the capital. casagangotena. com. Rooms from $3,257 (via expedia.com.hk).
Metropolitan Touring offers Galápagos itineraries for all activity levels and budgets as well as tours of Quito and other South American locations. metropolitan-touring.com
[PDF url=http://www.hongkongkate.com/wp-content/uploads/2015/04/331-Time-Out-Galapagos.pdf]