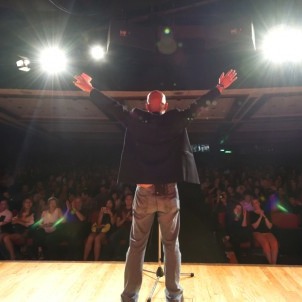 Fancy a laugh?
— September 9, 2015
Local favourites joined by overseas comedians for ninth annual show

The Hong Kong International Comedy Competition, now in its ninth year, has put Hong Kong on the comedy map. Every year the competition – held as part of the ongoing Hong Kong International Comedy Festival – gets tougher, the prize money increases and the laughs get louder.
"We are the top comedy festival in Asia. Years ago I would let anyone enter, now its an honour to be in it," says Jami Gong, who founded the festival and the TakeOut Comedy Club, Hong Kong's first full-time comedy club, in 2007.
Of 52 entries, 30 have been chosen to compete in this year's competition that kicks off on September 17 and culminates in the finals on September 26. The talent pool is made up of 16 local comedians and 14 from overseas – one as far away as Greece, showing the pulling power of the competition, which has been a springboard for careers since its inception.
Vivek Mahbubani, who won the Chinese competition in the first year and the English competition in the second year, is arguably the competition's biggest discovery, but many more have been boosted to the international stage on the strength of the title and the prize, which includes a US tour.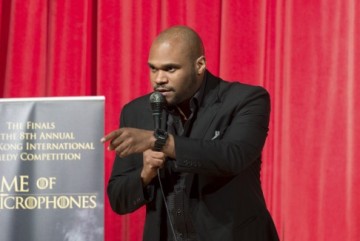 Last year's winner, Jim Brewsky, did successful gigs in New York, Chicago, Minneapolis and Hollywood and then went on to the Edinburgh Festival, but is happy to be back in Hong Kong.
"Asia is a new market. There are many people who aren't yet exposed to stand-up comedy. This is the future of comedy because many of the big acts want to come out to Asia and connect," says Brewsky who teaches at a local university.
Like most comedians, Brewsky draws heavily on his own life – his family, his take on life as a black American in Hong Kong and how people interact with him. He says that while jokes that play on race go down well with Hong Kong audiences, in the US and Britain people are more sensitive.
"In the US and UK people may not feel so comfortable, that it's no so PC, but in the 1960s, '70s and '80s many of the greats had the freedom to poke fun at these things. Perhaps in the West we try to be too much of a melting pot and here it's more of a salad – we can poke fun," Brewsky says.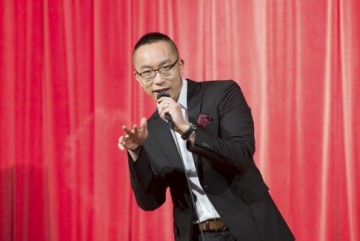 Tamby Chan was born in Hong Kong, emigrated to Canada when he was seven and returned to Hong Kong in 2008. He draws on his mixed heritage for his routines.
"I also perform in Cantonese and I play that up a lot. My character is like, 'I didn't grow up here, what's up with this?' Race plays really well in Asia, maybe because the comedy scene is so young. As long as its authentic, it's fair play," says Chan.
The Hong Kong comedy scene is an eclectic mix, from kindergarten teachers to senior bankers and from a wide spread of backgrounds so there's no shortage of perspectives.
Thirty-six-year-old Sogo from Africa's west coast arrived in Hong Kong in 2008 as a refugee. Christian Aid took him under its wing and, after starting to learn English in 2010, a volunteer teacher took him to see a show at TakeOut Comedy. Two years later Gong let him join his comedy class for free and not long after he was on stage doing his own routine about life as a refugee in Hong Kong and the differences between African and Chinese cultures.
"In Africa a beautiful woman should be chubby. I love women with a big booty, but in Hong Kong the women are slim. One African booty is 10 Hong Kong girls' butts – I must be in the wrong city," says Sogo.
And he always gets a laugh when he tells the crowd about the life he had back home in Africa, before he had to flee the trouble. "I come from a small family – just 21 brothers and sisters. For me it is a way to educate people about refugee life. Often they come up and talk to me after the show, ask me if Africa is really like that," says Sogo, who will compete in this year's competition.
For Indian banker Mahesh Mansigani, who grew up in London and moved to Hong Kong in 2007, the race card often works its way into his routines. "Everyone here has an aspect of talking about race culture because there is this melting pot. I talk about the stereotypes you face being Indian, the assumptions that are made," says Mansigani.
The 33-year-old says he often played the class clown at school, but it wasn't until 2009 that he took Gong's comedy class and it was another two years before he got the courage to get on stage on open mic night. Mansigani is among many local comedians who credit Gong with giving them the tools and the courage to do stand-up comedy and hone their craft so they are able to compete for the Asian title.
"Jami is the godfather of the Asian comedy scene. He doesn't just book shows, he gives advice. He watches every single set, even the not so popular ones," says Chan.
As more local comedians join the scene, they push each other to perform even better. Add to that the now regular flow of overseas talent – not least of all for the competition – and the bar is raised even further.
"Now you come to the show and everyone has tight sets, it's amazing to see. We give each other that momentum," says Mansigani.
Original Link: SCMP