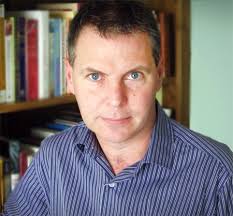 Beijing's Bookworm
— October 5, 2015
Ten-year-old Chinese bookstore chain The Bookworm, founded by two expats, has become a go-to-destination in Asia for touring authors, with 3,000 hosted so far

In 2002, when Irish journalist Peter Goff and his friend Alex Pearson began running book readings and discussions in Beijing the literary salon concept was something of an anomaly. Not only were books published in English hard to come by in the Chinese capital, you didn't often find people sitting around talking about them and hobnobbing with authors.
"That whole culture of an author actively promoting their work via book talks and reading and signings historically hasn't really existed in China, but it's very much developing now. There are a lot more of these salon activities where people go along and meet authors or have a panel discussion. They seem to be really blossoming in China now," said Goff.
China's literary scene has changed significantly over the last decade or so and Goff and Pearson have been key players in that transformation. Those early, informal literary salons were run in the small lending library-come-café that Pearson set up in a Beijing courtyard. She called the place Bookworm.
Over the next few years the Bookworm moved to several sites before finding a permanent home in Beijing's Sanlitun district in 2005. The bookshop/library/café concept took off and a year later Goff quit journalism to focus on the business, opening a branch in Chengdu in 2006 and another one in Suzhou in 2007. When Beijing Bookworm celebrated its 10th anniversary this month [subs: September], it calculated it had hosted 3,000 authors over the decade.
The visiting authors drive the book sales, says Goff, who admits that even at the best of times the profit from the books was small. The introduction of the Kindle in 2008 followed by heavy discounts on books made that side of the business even more challenging. Business profits are realised from the café/ restaurant and the salon events.
The events and the audience had changed significantly over the years. What began as an English-language bookstore hosting English-language events for an international audience has evolved and now hosts plenty of Chinese events as well and the audience is much more mixed.
"We have lots of international events with 60 or 70 countries represented. When authors come through town we often liaise with embassies and councils to line up a reading or discussion," says Goff, who manages the bookstores in Beijing, Chengdu and Suzhou.
When the Bookworm was founded most Western readers' experience of literature from China was of the Wild Swan genre, long semi-autobiographical accounts of the Cultural Revolution and other momentous events in Chinese history. Those aren't the experiences of today's young Chinese writers.
"Those born in the 1980s and 1990s are writing about contemporary issues – examining the human condition, dealing with fanatic urbanization and environmental issues, how to develop themselves as individuals and express their creativity and make a living. These are the things they're concerned with," says Goff.
Japanese culture has for years had a strong influence on music, fashion and entertainment in China and with Japanese writers such as Murakami topping the bestsellers lists Goff says it is now influencing the fiction.
"A lot of young people read Japanese authors, so the books that are coming through are in the genre of magic realism, surrealism and fantasy fiction. The influence in fiction started about five years ago and has been very widespread over the last two to three years," he says.
Very little of this contemporary fiction has been translated and the US, Britain and the rest of the world has yet to get an appetite for Chinese novels. But Goff is confident that the time will come and he and the Bookworm team are pushing to make that happen. Last month [subs: August 27] they announced the winners of the inaugural China Bookworm Literary Award, a competition initiated at the beginning of the year to select a previously unpublished novel by a mainland Chinese writer. The winner was Wang Zhezhu from Guangdong and the runner-up, Li Ziyue from Fujian.
"They are both young and have an interesting take on things. Their novels are being translated and we hope to they'll be ready for the Spring of 2016 – these are the people we hope to introduce to the world," said Goff.
The shift to getting more Chinese fiction translated into English is apparent in the Bookworm's inhouse literary journal, Mala. When the journal was started four years ago it was focused on expatriate writers living in China, but it has swung towards more Chinese writers and the latest issue due out in October is about 80 percent Chinese writing in translation and 20 percent written by native English speakers.
Like most places in the world, young people are more likely to be glued to their smartphone that have their head stuck in a book. To try to encourage more young people to read, Bookworm ran a competition called Flash Europa 28 – 104 stories from the 28 countries of Europe were translated into Chinese. The 500-word stories were distributed free, one a day, over social media such as WeChat and Weibo.
"So far on our own WeChat site we've had 4 million reads of these stories. When it's big in China the numbers are staggering. We didn't have any marketing budget – we just made it available. If you did have the resources to push these things imagine how many people you could reach," says Goff.
Original Link: Publishing Perspectives