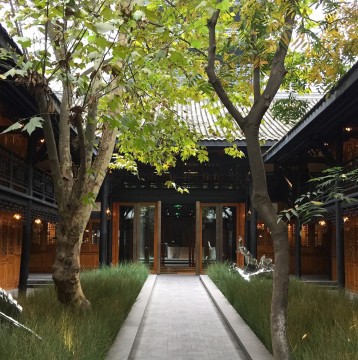 The Temple House, Chengdu
— October 21, 2015
There's been plenty of buzz around The Temple House since it opened in the summer, and for good reason.

The third property in Swire Hotels' swanky House Collective (after The Opposite House in Beijing and The Upper House here in Hong Kong) it's a blend of historic and contemporary architecture. Guests enter through a 100-year-old Qing Dynasty building that leads into a walled courtyard. Beyond the lobby are a landscaped garden and the modern hotel building, all glass and LED artworks.
The rooms 
The 100 rooms are divided into eight categories, beginning with the Studio 60, a 678sq ft suite. The décor is minimalist and peppered with luxurious touches – a yak-wool throw on the sofa, a complimentary mini-bar packed with sweets, soft drinks and beer. Thanks to some high-tech wizardry you can lie in bed and not only control the lights, blinds, mood, music (Bose speakers) and flick through 60 TV channels but also order room service via the television.
The facilities
The Italian restaurant Tivano, complete with a wood-fired oven, successfully pulls off the dual feat of looking sophisticated whilst feeling ultra-comfortable. For a nightcap, definitely drop into Jing, the speakeasy- style bar. The candle-lit terrace is an inviting space to take part in Chengdu's favourite past time – to sit and chat – and the cocktail menu here almost a book. The hotel has an indoor pool with skylights that throw up great reflections on the water. And the spa – Mi Xun – has treatment rooms that are arranged around a quiet private courtyard. There are retro bicycles that are free for guests to borrow, custom- designed by the hip Chengdu bike store Natooke. Taking a leisurely ride along the banks of the Jinjiang River is a great way of soaking up the laid-back Chengdu vibe.
The bottom line
The Temple House is a city hotel in downtown Chengdu, but has the relaxed feel of a resort property. Whether or not pandas are top of your must-do list in Chengdu, then Temple House ought to be top of your must-stay list. Kate Whitehead
Temple House Hotel 81 Bitieshi Jie, Jinjiang district, Chengdu, +86 28 6636 9999, thetemplehousehotel.com. Rooms start from $2,500 (inc tax).
[PDF url=http://www.hongkongkate.com/wp-content/uploads/2015/12/Timeout-Checkin-Temple-House.pdf]