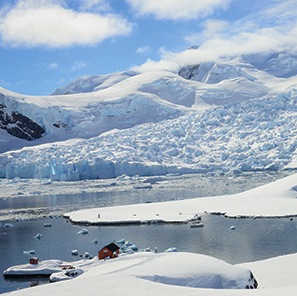 The Big Freeze
— December 31, 2015
Kate Whitehead puts on the layers and finds out just how cool Antarctica really is

Summer on the Antarctic Peninsula never gets dark. The sun sets after 10pm and even then there's twilight sufficient to illuminate the glaciers. Typically, the water is so still it mirrors the columns of ice threatening to disengage and collapse in. But, as we zoom by, instead of any ice shearing off, a raft of penguins bob past, disturbing the reflection as snow crumples off down into the sea.
With no trees or anything that might provide a sense of scale, distances are difficult to judge.If you're lucky, you'll be jolting along in a Zodiac inflatable vessel – something between a dingy and a fully fledged boat – when part of a glacier topples into the sea. Our Zodiac appears closer to the glacier than it really is. A little more snow falls off the glacier's face followed by a terrific bang that echoes around the bay. A huge column of ice plunges into the sea and the explosion rips around us like firecrackers and another huge section of the glacier carves off. The ice detonates a miniature tidal wave that seems to rise up and roll towards the boat in slow motion.
If you're doubly lucky, your Zodiac driver will be as cool-headed as Australian Marty Greenwood, the chief penguin keeper at Sydney Aquarium who works the tourist season in Antarctica on Polar Latitudes' ship, Sea Explorer. "Make sure you're holding onto the side," he says as he swings the boat around to face the oncoming wave.
The boat rises above the wave to approach an even larger one beyond it – it's like lying on the belly of a giant that has sleep apnea. All around, small icebergs, referred to as growlers, lurch forward and flip over, revealing intricately chiseled and pocked undersides. Antarctica is alive and breathing. Sitting in the Zodiac, feeling the swell of the sea beneath you, makes one acutely aware of the beauty and power of the frozen continent.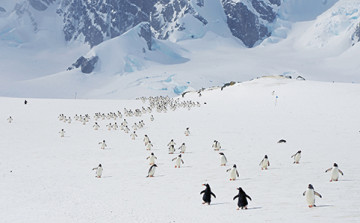 Fully 98 percent of Antarctica is ice – representing 70 percent of the world's fresh water – and that ice can be breathtaking. The more you observe it, the more you appreciate the startling breadth of colours, from white through to turquoise, deep blue and black. The black ice is the oldest – 50,000-year-old water that has been so compressed over time that all air and impurities have been removed, leaving ice that looks like obsidian sheets of glass. But as impressive as the icebergs and glaciers are, it's the penguins that steal the show.
Even if you haven't seen Happy Feet, you know that penguins are cute. Zipping through the water at up to 22mph they are speedy birds, but as soon as they hit land and start waddling about on their webbed feet, using their fins for balance, the cute factor gets ramped up. But one thing that doesn't come on the warning label with penguins is that they poop – a lot. The stuff is pink, receiving its colour from a diet of krill or small shrimp, and you swiftly learn that those pretty pink streaks in the ice are to be avoided rather than admired.
In the Antarctic Peninsula the three types of penguin you are most likely to see are the gentoo, the chinstrap and the adelie. They come ashore to mate in November and for the two months they remain on land they don't eat, but they poop as they go about the task of finding a mate and raising a chick. Along the trails from the shoreline to their nests you can see distinct pink paths etched into the snow.
The International Association of Antarctica Tour Operators (IAATO) oversees tourism in the region. To ensure visitors don't disturb the wildlife, tourists are told not to get closer than five metres. Of course, the penguins don't know about the rule, so if you remain still they will sometimes get up close. It can make for some magic moments. Another IAATO regulation holds that no more than 100 people can go ashore at any one spot. This means that if you are on a ship that has 200 passengers, landings have to be staggered.
When choosing an expedition ship, it's also crucial to check what activities are available. Many offer the option to kayak and even camp on the peninsula. These activities usually come at an additional cost and you need to book well in advance as places are limited. At some point in the journey most ships will offer the chance to do the polar plunge. If you're brave enough to strip off and leap into the icy water it's guaranteed to wake you, and, bizarrely, once you've dried off you'll be warm for the rest of the day.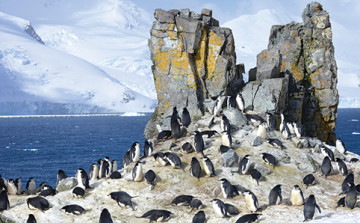 Where to stay
Unsurprisingly, there are no hotels in Antarctica. Unless you're a scientist working at a base, the only way to visit is to take an expedition ship and sleep onboard. Sea Explorer is operated by Polar Latitudes who run 11 to 22-day trips to the Antarctic, the Falkland Islands and South Georgia. The expedition team is made of specialist guides who hold daily lectures on the region's wildlife, history and geology. Cabins from $70,000 for an 11-day cruise; polar-latitudes.com.
How to book
You need to book through an agent. In Hong Kong, the best bet for Antarctica is A2A Journeys, which tailors luxury adventure trips to Latin America and Antarctica. They have an office on Hollywood Road (Suite 504, 5/F, Chinachem Hollywood Centre, 1-13 Hollywood Rd, Central, 2525 2776; a2asafaris.com) so you can stop by and talk to them. Booking through an agent entails no additional cost and they will be able to advise on the best time to go depending on what activities you want to do and help with the pre and post trip travel logistics and – most importantly – ensure immediate ground support in the event of any problems. In the event of cancellation, they can also help you get on another ship or rebook. Tourist season begins at the end of October and runs through to March.
How to get there
KLM (klm.com) flies daily to Buenos Aires from Hong Kong via Amsterdam from $16,000 (inc tax). From Buenos Aires you can take the 3.5-hour flight to Ushuaia with Aerolineas Argentinas (aerolineas.com.ar) from $5,300 (inc tax). The whole journey can take up to 40 hours, so consider taking a breather in either Europe or Buenos Aires.
Original Link: TimeOut
[PDF url=http://www.hongkongkate.com/wp-content/uploads/2016/01/Time-Out-Antarctica.pdf]