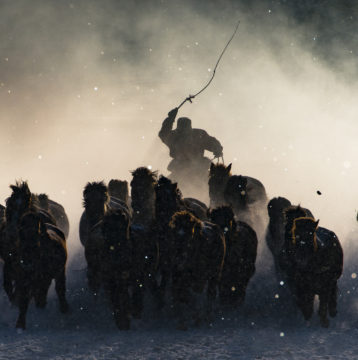 How to take the best travel photographs
— September 3, 2018
Hongkonger Anthony Lau, National Geographic Travel Photographer of the Year in 2016, has some simple advice: do your research, work with the elements, and don't smash your zoom lens two days into a trip, as he did in Canada

It's a nippy minus 27 degrees Celsius (minus 17 Fahrenheit) and there is a vicious wind sweeping across the plain, but Anthony Lau is in his element. He has managed to carve out a precious slice of time between work and family commitments to revisit Inner Mongolia.
A lone horseman is showing off his skills, silhouetted against the early morning sun, and Lau grabs his camera. This is what he has come all this way to do, but the extreme conditions are playing havoc with his gear – his autofocus isn't working, the aperture is stuck on F8 and the battery is sluggish.
"I knew the battery would take time to charge up, so I could not rely on continuous shooting. I had to observe the horseman's routine and carefully anticipate the shot. At the perfect moment, the horseman raised his whip," says Lau, 47.
That shot, Winter Horseman, won Lau National Geographic's Travel Photographer of the Year award in 2016, putting the amateur Hong Kong photographer in the international spotlight.
"You've always got to be prepared for failure and work with the natural elements, because you never know what will happen," says Lau, who is head of operations for a professional services company.
His brother taught him photography when he was in primary school, but it wasn't until the birth of his first child in 2006 that he invested in a good camera to capture those special moments.
In 2012, he joined a Hong Kong tour group, King Top Travel, and took his first serious photography trip, to Inner Mongolia. Since then he has travelled the world with his camera, photographing everything from the Maasai Mara in Africa to the Northern Lights in Finland.
Lau's recommendation for budding travel photographers is to research the destination before you leave. Look up significant landmarks and investigate how you will get to special places or festivals.
"A lot of people forget how important it is to get the basics right. I do a lot of preparation," says Lau. "Things like reading the local weather forecast can help you avoid wasting a lot of time and energy."
After a full day of shooting, no matter how tired you are when you get back to base, prepare your gear for the following morning by cleaning lenses, charging batteries and backing up memory cards, he adds.
"People just leave their gear in their bag after a photo shoot, but the next morning you may need to grab your gear in a hurry and then you notice dust on the gear and things go south from there," says Lau.
Some of his friends get excited about buying new gear ahead of a trip, but they do not have time to read the manuals before they go, and Lau has received messages from desperate friends in the field asking how to use a particular function.
"You've got to understand your gear. You cannot be thinking about functions when you want to capture the perfect moment," says Lau.
Good preparation is also about developing your aesthetic mindset. Lau learns from other photographers by reading books and visiting exhibitions to better understand how they captured their images. More recently, he has also begun to look to the Impressionist painters for inspiration.
"Understanding how the great artists interpret light and patterns can help you take better pictures. When I shot the Tai Hang fire dragon dance, I used the movement of the lens and only the eye of the dragon was sharp, the rest was blurred," says Lau, who counts photographers Ansel Adams and Art Wolfe among his key influences.
The National Geographic Award came with an expenses-paid trip for two to Canada to photograph polar bears. He took his eldest son with him and they trekked cross the snow with a guide, getting within 10 metres of the bears. But as is often the way, not everything went to plan.
"I'd been waiting 500 days, since winning the award, to make the trip and on the second day I dropped my zoom lens in the snow," says Lau. "Beneath the snow was a rock and the lens smashed."
Fortunately, he had given his son a good-quality lens, so he was able to use that one.
Lau will be speaking at the Royal Geographic Society – Hong Kong about travel photography. He will also be teaming up with two tour companies – King Top Travel and Blue Tour – to lead travel photography tours to Sichuan province in China in November and to see the Northern Lights in Russia in March.
Photographing some of the world's most remote locations has made Lau respect the natural world. He believes photography is an important tool for communicating its beauty and importance.
"Taking photos isn't about getting 'likes', it's about using my skills and knowledge to share the message to do more to save wildlife and our climate," he says.
Original Link: SCMP