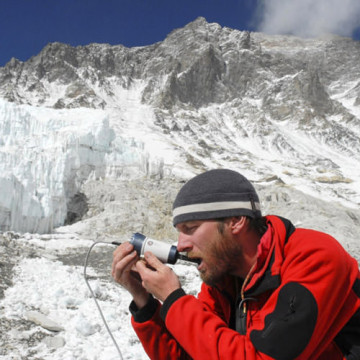 Mount Everest – unlikely lab for a diabetes study
— May 12, 2014
A series of medical studies conducted on Mount Everest aims to help people suffering from a variety of conditions

The first thing most people who reach the summit of Mount Everest do is take a trophy photograph, but when Mike Grocott scaled the world's highest mountain in 2007 he had other things on his mind.
Grocott, professor of anaesthesia and critical care at the University of Southampton, was leading a team of "climbing doctors" to better understand the variation in terms of how people respond to oxygen, an important factor in determining why some people fare better than others in intensive care units.
The scientists are still sifting through the vast amount of data obtained from that study – Caudwell Xtreme Everest – as well as a second trip to Everest last year, but already they have made some breakthrough findings.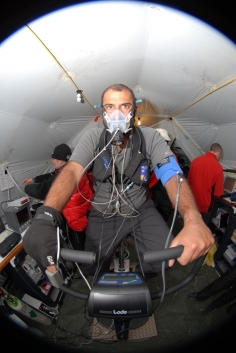 It is the research into type 2 diabetes that is getting a lot of attention, particularly as rising global obesity levels mean the condition is more prevalent.
Type-2 diabetes is when cells in the body fail to respond to insulin, a hormone that helps regulate blood sugar levels. Too much sugar can be toxic and lead to kidney and nerve damage if left untreated. Although it used to be associated with older people, younger people are now affected, too.
In Hong Kong, about one in 10 people have diabetes mellitus, of which more than 90 per cent have type 2 diabetes.
The Caudwell Xtreme Everest study by the University of Southampton and University College London took 24 healthy volunteers to Everest Base Camp, which is at about 5,300 metres above sea level.
"If you like, it's the human equivalent of laboratory rats. The great advantage over animals or test tube-based science was studying the right species – humans – and the functions of all the different systems working together. You can't really get that unless you study whole humans," says Grocott.
Half the group stayed at Everest Base Camp for two months while Grocott led the other half to the 8,848-metre high summit. At six and eight weeks, the volunteers' blood sugar control and weight changes were monitored as well as "inflammation biomarkers" which indicate the presence of a disease.
"The plan had been to take an arterial blood sample on the summit to find out what the level of oxygen is in a critically hypoxic environment, but in fact not terribly surprisingly it was a bit cold and a bit windy," says Grocott, whose wife Dr Denny Levett was on the team.
He led the team back down the mountain to a structure known as "the balcony" at 8,400 metres, and took the blood tests there. A Sherpa then ran the samples down to the Western Cwm, a broad valley on the mountain at 6,400 metres where there was a fully set up lab.
"It was a very different experience to most people's climbing trips. We left in the middle of March and didn't come back until the end of June, and were at Base Camp before any other climbing teams and left after the other teams had gone. The climbing was a relatively small component of what we were doing," says Grocott, who has 30 years mountaineering experience and ascended Nepal's Cho Oyu at 8,201 metres the year before his Everest summit.
"We had this unique opportunity to study whole humans exposed for a long period of time to quite severe hypoxia and what you find is that you do develop this picture of glucose intolerance, which thankfully recovers when you return to sea level," says Grocott.
The findings, published in PLOS ONE last month, are a window into better understanding insulin resistance. Fat tissue in overweight and obese people is thought to exist in a state of mild hypoxia because the small blood vessels aren't able to supply enough oxygen.
What the researchers found was that some of the known biomarkers for insulin resistance were increased after the subjects had been in a low oxygen environment for several weeks. It's thought that this was due to increased amounts of tissue damage caused by oxidative stress, a situation whereby the cells aren't able to repair themselves properly.
"The results suggest possible interventions to reduce progression to full-blown diabetes, including measures to reduce oxidative stress and inflammation," says Grocott.
The ability to scale Everest was just one of the many challenges faced by the climbing doctors. They also had to think about how to look after their equipment at temperatures well below freezing. While most of the kit was fine as long it didn't freeze rapidly, some items were more sensitive and needed to be kept in insulated boxes. That was easily done at Base Camp, but not above the Western Cwm and the researchers had to come up with a Plan B.
"The oxygen sensors, the laptops and the other things we knew were temperature sensitive spent the night in our sleeping bags," says Grocott.
Of course, having a large team of doctors carrying out medical research meant safety was the number one priority, over and above any climbing feats – which is why they descended from the summit to the relative shelter of the balcony before taking the blood samples.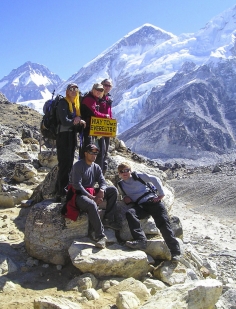 The medical team was also able to step in and save the lives of two people who might otherwise not have survived.
The first was Usha Bista, a Nepalese woman found unconscious in the region known as the "Death Zone" by American climber Dave Hahn. Grocott and his team helped her down the mountain and, aside from losing the end of her thumb, she was fine and surprised Grocott by e-mailing him a year later to say she'd just successfully summited Everest.
The second was a Nepalese climber who the team found unconscious. They gave him oxygen and food and he recovered sufficiently to get off the mountain by himself.
In spring last year Xtreme Everest 2 was launched to add further data to the study. Six years on and Grocott's personal situation had changed, so he didn't scale Everest. Instead he and his wife – with their three children aged under four in tow – ran the laboratory in Katmandu, analysing blood samples from the volunteers.
"In a way it was almost as challenging as in 2007, but for very different reasons," says Grocott, referring to challenge of looking after the children as well as a lab.
As well as looking at type-2 diabetes, they were also looking at nitrogen oxide biology. Unlike the first big study, half the subjects in the second one were Sherpas. They wanted to study the Nepalese guides to see how their bodies have adapted to function well at high altitude.
"The Sherpas seem to have a very high level of nitrogen oxide. Potentially – although we won't be able to confirm this until later in the year – the Sherpas have mitochondrial changes, which are particularly beneficial," says Grocott.
The findings on how Sherpas are adapted to a low-oxygen environment could help critically ill patients. If the researchers can identify what gives Sherpas an advantage in high altitude, doctors might be able to offer something similar to those in intensive care wards where oxygen shortage claims many lives.
The key to helping people with sleep apnea might also lie at the top of the mountain. The condition, common in the obese, causes disrupted breathing during sleep – for 10 seconds or more at a time. Sleep apnea sufferers also tend to develop type-2 diabetes.
"We are very interested if the same picture is seen, particularly those with obstructive sleep apnea and obesity where you have these periods of hypoxia – or shortage of oxygen – during sleep," says Grocott, adding that it will be some time yet before their findings alter patient care.
Original Link: SCMP